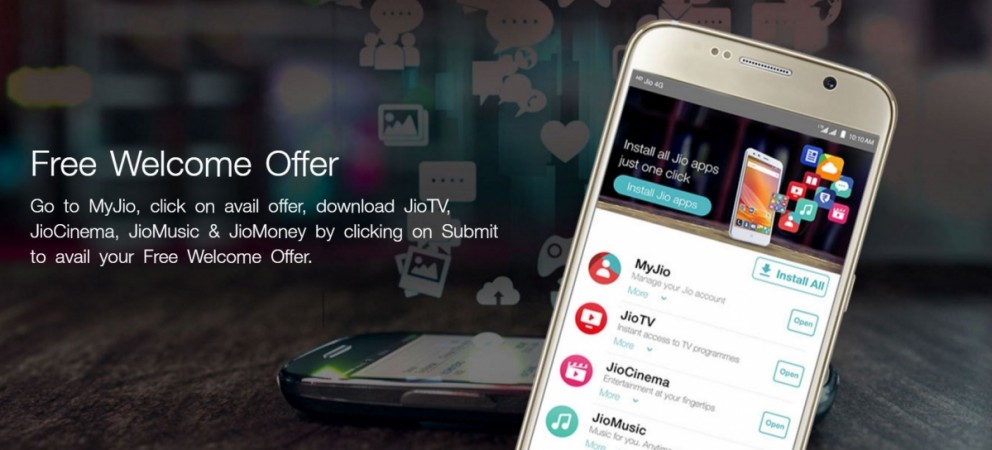 Update: Sept.7, 8:02 a.m.: Reliance Jio has added three more Lenovo phones — ZUK Z1, Lenovo A7000 and A6600 to the list of devices compatible with its VoLTE 4G SIM.
Update: Sept.6, 11:16 a.m.: Reliance Jio has added a few more models of Lenovo, Motorola, InFocus, Huawei and Honor to the list of devices eligible for unlimited internet and VoLTE calls.
Original story:
Reliance Jio, which is set for a commercial launch on Sept. 5, has added another handful of smartphone brands eligible for the Free Welcome Plan, which offers unlimited data and high-definition VoLTE (Voice-over-LTE) calls.
As per Reliance Jio's revised device list, popular brands such as Lenovo-owned Motorola, Xiaomi, OnePlus, Huawei, BlackBerry, InFocus and Celkon are the new entrants in the Reliance Jio Preview offer.
Here is the new list of devices eligible for Reliance Jio preview offer [Updated list]:
Lenovo's Motorola: Moto G (3rd Gen), Moto E (2nd Gen), Moto X Play, Moto G Turbo, Moto G4, and Moto G4 Plus, Moto G (3rd Gen) Turbo, Moto X (2nd Gen), Moto X Style and Moto X Force.
(Note: Moto G4 Play, which is expected to debut in India on Sept. 6 is also expected to be eligible for Reliance Jio SIM)
Lenovo: Vibe Shot, Lenovo A2010, A2020, A6000, A6000 Shot, Lenovo K3 Note, K4 Note, Vibe K5, Vibe K5 Note, Vibe K5 Plus, Vibe P1, Vibe P1m, Vibe S1, Vibe X3, A7000, A6000, and newly launched- A6600, A6600 Plus and A7700.
Lenovo's ZUK: ZUK Z1 and soon to be launched Z2 Plus
BlackBerry: Priv
LeEco: Le Max 2 and Le 2.
Xiaomi: Redmi 2 Prime, Redmi Note 3 (H3A), Redmi 3S, Redmi 3S Prime, Mi 5 and Mi Max.
Also read: Apple iPhone 7 wrap-up: Expected price, release, specification details

OnePlus: OnePlus 3
InFocus: M535, M680, M370, M370I, M535+, Bingo 50+, M808I, M812I, M425, M430, M460, M535 and M680.
Huawei's Honor series: Holly 2 Plus, Honor 4C, 4X, 5C, 5X, Honor 6, Honor Bee 4G, Honor 6 Plus and Honor 7.
New Update: Reliance Jio 4G service goes live in India on Monday; where to get new SIM, tariff plans [everything you need to know]
Huawei: Nexus 6P and Huawei P9.
Onida: I4G1
Also read: Reliance Jio preview after-effect: Airtel launches another lucrative internet pack offer
With the inclusion of aforementioned devices, Reliance Jio is now supporting almost all the well-known smartphone brands. However, the premium Apple devices are yet to make it to the list.
[Note: Though Huawei and Celkon brands are named as Reliance Jio partners, individual model names are not listed yet. We will update the latest details as and when we get it. Keep an eye on this space.]
Also read: Reliance Jio preview launch: List of Karbonn, Lava, Xolo, Gionee smartphones eligible for unlimited data and VoLTE call offer
Reliance Jio Free Welcome Offer benefits:
For those unaware, the Jio trial offer users are entitled to get unlimited HD Voice (VoLTE), video calling, unlimited SMS (9,000) and unlimited high speed data.
Also View: Jio launch after effects: Twitterati Troll Reliance Competitors
Furthermore, they can also avail premium Jio applications – My Jio, Jio on Demand, Jio Beats – with unlimited options of latest movies, TV shows and songs across multiple languages until the end of 2016.
Read more: Other smartphones eligible for Reliance Jio preview offer
[Note: If you are an existing Jio Preview Offer customer, you will be automatically migrated to the Free Welcome Offer on Sept. 5 and be able to enjoy same benefits till the end of December.]
Post the trial offer, users can enrol for data tariff plans of their choice.
Read more: How to enroll for Reliance Jio SIM card?
Here's the breakdown of Reliance Jio Internet Tariff plans:
| | | | | | | | |
| --- | --- | --- | --- | --- | --- | --- | --- |
| Jio Tariff plans | Rs.149 (S) | Rs.499 (M1) | Rs.999 (M2) | Rs.1,499 (L) | Rs.2,499 (XL) | Rs.3,999 (XXL) | Rs.4,999 (XXXL) |
| Free Voice(Local/STD/ no roaming charges in India) | Yes | Yes | Yes | Yes | Yes | Yes | Yes |
| 4G Data | 0.3GB | 4GB + Unltd 4G at night | 10GB + Unltd 4G at night | 20GB + Unltd 4G at night | 35GB + Unltd 4G at night | 60GB + Unltd 4G at night | 75GB + Unltd 4G at night |
| Jio Apps subscriptions worth Rs. 1,250 | Yes | Yes | Yes | Yes | Yes | Yes | Yes |
| Unlimited SMS | 100 | Unltd | Unltd | Unltd | Unltd | Unltd | Unltd |
| Wi-Fi (JioNet HotSpot) | ---- | 8GB | 20GB | 40GB | 70GB | 120GB | 150GB |
| Validity Pack (Days) | 28 days | 28 days | 28 days | 28 days | 28 days | 28 days | 28 days |
Other notable aspects of Reliance Jio service:
Reliance Jio consumers will not be charged extra for calls and SMSs on festivals, Friendship day, Valentine day and other socially significant days
Students with valid ID are entitled to get 25-percent additional data benefits
'Enterprise' plan for corporate are also be launched soon with subsidised data tariff