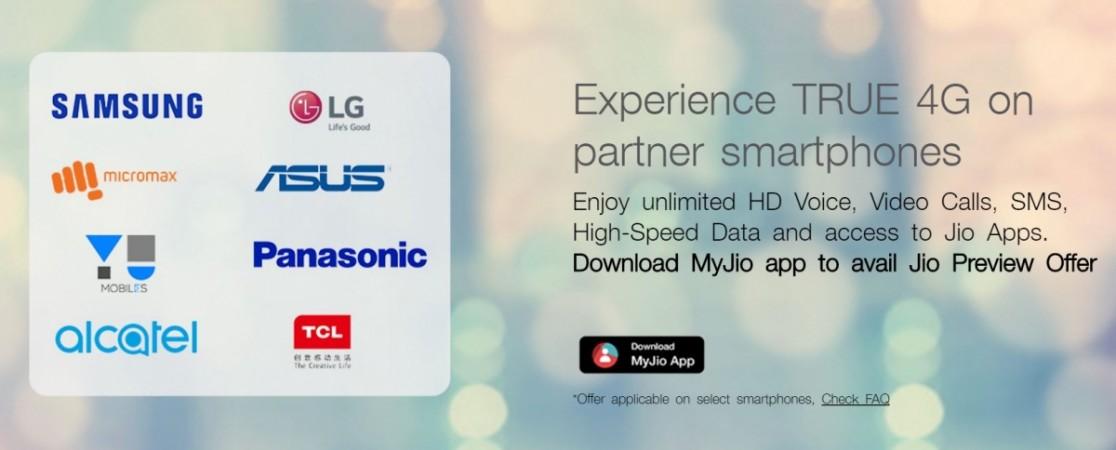 Mukesh Ambani owned-Reliance Jio has been steadily expanding its network since May, beginning with its proprietary LYF series phones. Recently, it partnered with Samsung, LG, Asus and Panasonic and now, it is being extended to three more brands.
Alcatel, TCL, Micromax and its subsidiary Yu series smartphone owners are eligible to avail the Reliance Jio preview offer. With this, users will be able to enjoy unlimited HD Voice (VoLTE), Video calling, unlimited SMS (9,000), unlimited high speed data and Jio Apps for a period of 90 days.
Smartphone users can enjoy more value-added services by downloading JioPlay, JioOnDemand, JioBeats and JioMoney. However, charges will be applied for international calls and roaming.
With such tantalising offers, the Reliance Jio fever has gripped the nation. Almost all cities in India are witnessing a huge number of eager prospective buyers lining up at Reliance Digital/Xpress outlets. Scenes at these spots remind us of the long lines we see at Apple stores ahead of a new iPhone launch in the west.
List of Micromax, YU, TCL and Alcatel devices eligible for Reliance Jio preview offer:
Micromax devices: Canvas Pulse 4G, Canvas Nitro 4G, Canvas Knight 2, Canvas 5, Canvas Evok, Canvas 6 Pro, Canvas 6, Canvas Blaze 4G, Canvas Fire 4G, Canvas Fire 4G plus, Canvas Xpress 4G, Canvas Blaze 4G Plus, Canvas Pace 4G, Canvas Mega 4G, Bolt Selfie, Canvas Mega 2, Canvas Unite 4, Canvas Fire 6, Canvas Sliver 5, Canvas Juice 4G, Canvas 5 Lite, Canvas 5 Lite Special Edition, Unite 4 Pro, Canvas Play 4G, Canvas Amaze 4G, Unite 4 Plus and Canvas Tab.
Micromax Yu devices: Yu Yuphoria, Yu Yureka, Yu Yutopia, Yunique, Yuphoria, Yureka Plus, YU Note, Yureka S, Yunicorn
Alcatel devices: POP3, POP Star, POP4, OneTouch X1 and Pixi 4 -5
TCL devices: TCL 560, Pride T500L, FIT 5.5, TCL 562
Also read: Samsung, LG, Asus and Panasonic devices eligible for Reliance Jio preview offer
How to avail Reliance Jio preview offer on eligible devices:
If you already own any of the aforementioned branded smartphones, you need to download the MyJio app from Google Play Store (HERE). Then follow the procedure below:
Step 1: Open MyJio App on your smartphone.
Step 2: Type-in your details including full name and mobile number for verification
Step 3: Check availability of Jio Preview Offer in your location
Step 4: Once finding the nearest shop, generate your exclusive Jio preview offer coupon code
Step 5: Take the screen-shot of code on your phone and show it to sales executive at Reliance Digital/Xpress store and submit with two passport size photos and a photocopy of a valid government-issued identity card for residence verification
Step 6: Collect the new Reliance Jio SIM and insert it in your phone
Step 7: Activate Jio SIM card by dialing 1977.
Step 8: Go to MyJio and click on avail offer to start your free services