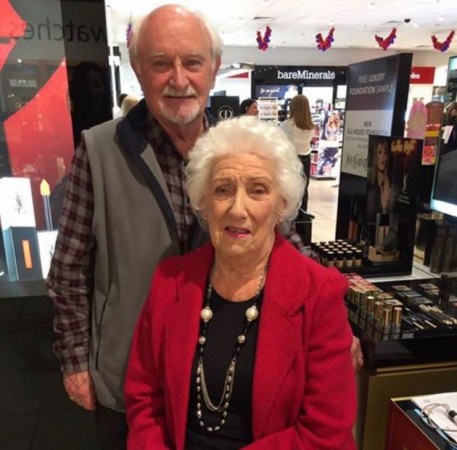 A heart-warming story of an elderly man learning how to do make-up for his wife, who is slowing going blind, is melting hearts over the internet. The man is taking make-up lessons so that he could help his wife when she is no longer able to do it herself.
Jean and Brian have been regularly going to one make-up store only because the husband wants to learn make-up tricks. The news about this beautiful couple came to be known when a store employee posted the story on Facebook along with their photo.
"Why I love my job so much!" the employee said in her Facebook post. "Meet Jean and Brian, two of our very loyal customers," he wrote. "Brian was in for another make-up lesson today as he does his wife's make-up every day as she is going blind. Such a wonderful couple who live their life to the full!"
In the image, Brian is seen smiling and standing behind Jean, who looked lovely in a red blazer and pearl necklace.
The post was later shared on Twitter and in no time it became viral on the social media platform. The post has made netizens teary-eyed with many commenting 'heart' or 'crying' emojis. Several even commented that they would want their partner to love them as much as Brian loves Jean.
"That's just gorgeous, true love Dean Larner would you do this for me? (I'm sure you would have me made up as a clown just to give yourself a laugh lol)" one Facebook user said.
"Aw how Beautiful. That there is true Love," another commented.
"I could actually cry! Relationship goals," a Twitter user said.
"I can't even get a text back I love them so much haha"
Check out the Twitter reactions below.
I could actually cry! Relationship goals ?❤️ pic.twitter.com/scCh4zu54h

— Scott Summers (@itsscottsummers) October 22, 2017
@Pokediger1 if i go blind u better study up watch some youtube tutorials, make sure i glow still

— nicole (@nijquanda) October 25, 2017
My husband would 100% do this for me. He does it playing around now(but he actually tries hard) it's cute and funny to me and he's not bad 2

— Elyse (@elyse5612) October 23, 2017
Omg this is so cute???

— Molly Witherall (@MolMol69) October 23, 2017
I'm not crying, there's just tears in my eye.

— Jamie Houghton (@JamieeHoughton) October 24, 2017
October 24, 2017
I. Am. Not. Crying. pic.twitter.com/5sBJzEoF8T

— Elle. Arr. Bee. (@Elle_Arr_Bee) October 23, 2017
@_kirsty8 I'm actually crying so bad??

— Samantha ❤️? (@_MendesDolan) October 24, 2017