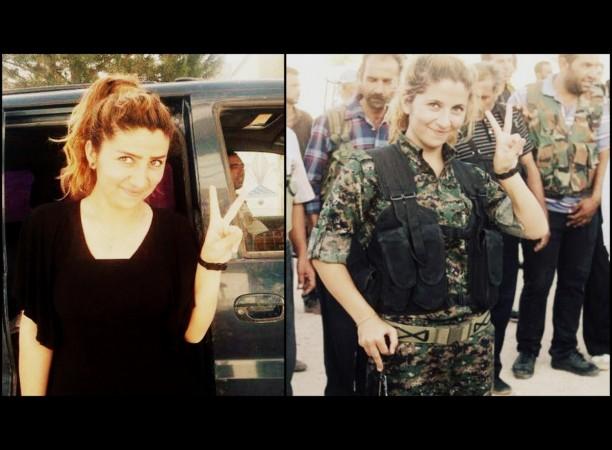 'Rehana', the poster girl for Kurdish YPJ or Women's Defense Unit who was feared to have been beheaded by the Islamic State fighters, is alive. A recent picture of her, taken in Kobane, surfaced online last week.
Known by her pseudonym Rehana, the young Kurdish girl shot to fame on social media last year for allegedly killing 100 Isis fighters.
She became an online celebrity after a journalist posted a picture of her on social media last year. She was seen making a victory sign in the picture, which was accompanied with the caption, "Rehana has killed more than 100 ISIS terrorists in Kobane".
The Kurdish woman gained thousands of fans across the world and was seen as a ray of hope for the Kurdish fighters, who were then outnumbered and outgunned by the Isis. Kobane, a border town near Turkey, has now been liberated of Isis-control.
However, by October, Isis' media wing had spread the rumour that Rehana, the slayer of 100 Isis terrorists who was also known as the 'Angel of Kobane', was captured and beheaded by the Jihadist group.
Rumours ran wild for months; while many media houses were quick to call it a hoax, there was no substantial evidence to prove that Rehana was still alive.
On 2 June, Kurdish journalist Mustafa Abdi posted an image of Rehana flashing her famous victory sign. However, this time Rehana was spotted in civilian clothing without the uniform and the AK-47.
She was seen wearing a black dress with a captivating smile.
Abdi posted the image via his Twitter handle @mustefaebdi along with the message that he spotted the Kurdish fighter in Kobane on Monday, 1 June, and this time she was not in her military uniform. He added that the claims of her death made by Daesh (acronym for Isis) are false.
The image was soon retweeted by many. A pro-Kurdish Twitter account shared the image with the message: "Our lovely symbol #YPJ fighter Rehana who was claimed to be martyred was in #Kobane yesterday."
Who is Rehana?
Kurdish sources claim that the girl, who is known as Rehana to the world is acually, Dijla, who now works in the Kobane city administration.
The young girl who became an urban wartime legend used to be a law student in Syria before Isis took over Aleppo. Swedish journalist Carl Drott, who had met and taken the popular picture of Rehana flashing the victory sign in August, revealed that the young woman was not even a member of YPJ, but an auxiliary 'Home Guard' unit.
A BBC report, which was the first to deconstruct the myth around Rehana, observed that the young girl commands a huge fan following online.
"She captivated everyone with her pretty eyes and blonde hair. She has a huge fan base," the report, quoting Kurdish blogger Ruwayda Mustafah, noted. "Everyone that I come across admires her because she symbolises what everyone wants to see. That women and men are standing up against barbaric force in the region," Mustafah added.
Related