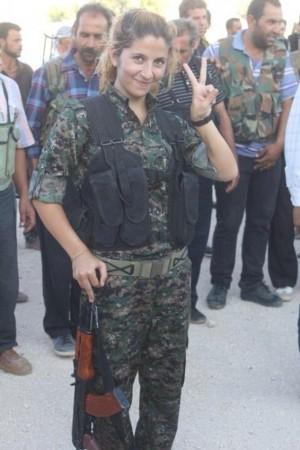 A female Kurdish fighter, who became an online sensation as the poster girl for the Kobani resistance in Syria against the invading Islamic State of Iraq and the Levant militants, reportedly has been captured and beheaded by the IS fighters.
The young Kurdish girl, known by the pseudonym Rehana, became an online celebrity after a local journalist tweeted a picture of her making a 'V-sign' and had written: "Rehana has killed more than 100 ISIS terrorists in Kobane."
Reports claim that her picture was retweeted over 6,000 times. However, reports that need more verification, claim that Rehana, who was a female fighter for the Kurdish YPJ, or Women's Defense Unit, has been killed.
The reports, citing unnamed sources claims that the ISIS fighters have been posting pictures of her beheading. It is claimed that a picture of an ISIS fighter holding a severed head said to be of Rehana has been posted by the IS militants in Kobani, also known as Kobane.
A 9News report claims that there are speculations that Rehana has been killed, with gruesome photos of her decapitated body circulating in the social media. The report, however, noted that her death is "unconfirmed."
Earlier this month, the ISIS militants after storming the city of Kobane, located near Syria-Turkey border started posting several pictures of beheaded Kurdish fighters, including women. The IS uses social media for war propaganda and has been able to demoralise others by using Twitter for spreading ISIS fears.
However, in Kobani, the ISIS has been met with firm resistance, especially as the Kurdish female fighters have been playing a frontal role in the battle for defending the city.
Reports claim that the ISIS jihadists fear that being killed by a woman would cost them their promised "paradise" in the afterlife.