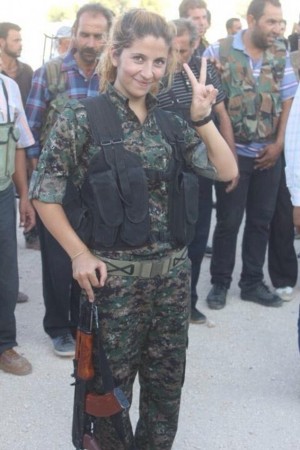 Supporters of the militia group battling ISIS in Kobani have vehemently trashed reports that claimed Kurdish female fighter Rehana, famed for killing 100 ISIS fighters, was beheaded by the Islamic State.
Over the past week, social media has been abuzz with claims that young Kurdish female soldier Rehana was captured by the Islamic State militants and beheaded.
The Kurdish militia has neither denied nor confirmed the reports till now. The young Kurdish girl, who appears to be using pseudonym Rehana, became an online celebrity after a picture of her making a victory sign along with the caption, "Rehana has killed more than 100 ISIS terrorists in Kobane", was posted online by a journalist.
The female fighter for the Kurdish YPJ, or Women's Defense Unit, came to be regarded as a symbol of hope for Kurdish supporters overnight. Several supporters of the group have now come forward with evidence to prove that Rehana has not been beheaded.
A Kurdish journalist, Rashad Abdel Qader, on his Twitter account stated that Rehana is alive. He also, however, pointed out that the claim that Rehana killed 100 ISIS fighters might be exaggerated. "Spoke to #Rehana she's sound Re& safe. #dailymail's is not true, she didn't kill 100 #ISIS but fighting fiercely #Kobanes,"Rashad abdelQader @RashadAbdlQader tweeted.
A report in 9News claimed that citing 'unconfirmed' reports that there are speculations about Rehana being killed by ISIS as the terrorist group had posted gruesome photos of 'her' decapitated body on the social media.
Another journalist and Kurdish supporter Pawan Durani @PawanDurani noted that it was all an ISIS propaganda. "Let #ISIS produce even a single picture of Rehana .... Propaganda and falsehood runs in their blood .... Rehana keeps hunting them," Durani tweeted.
The supporters also have posted a CNN video shot in Rojava-Kurdistan (Western Kurdistan) titled 'Is an enemy of ISIS a friend of America?' as proof that Rehana is alive. In the online discussion forums, the supporters say that the video, aired on 26 October, proves that the young Kurdish fighter is alive. The girl, who appears at 00:07- 00:08 minute in the video a holding a flag and a gun with light brown gunstock, (third from left) is Rehana.
A Mirror report also noted that Kurdish resistance had denied the ISIS claims that they have beheaded poster girl 'Rehana.' The story, however, has no official statement from any of the Kurdish militia.
The young girl, who appears to be in her twenties, has become a symbol of Kurdish resistance movement against Islamic State. Rehana is one among a few hundreds of young girls fighting for the Kurdish Peshmerga militia, which has an Independent Women's Battalion known as the YPJ.
The female Kurdish fighters are literally the backbone of the Kurdish resistance movement in Kobani, also spelled Kobane. ISIS has much to gain from spreading rumours of death, especially in bringing down the morale of the Kurdish fighters.