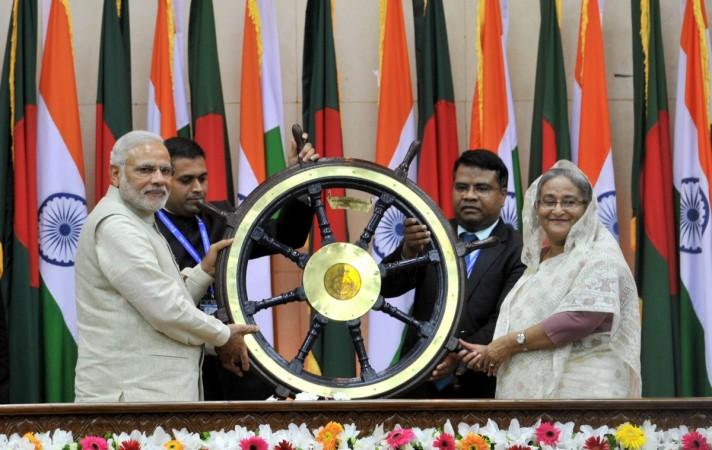 Indian defence minister Manohar Parrikar is heading to Bangladesh on Wednesday with a top defence delegation that will include vice chiefs of Army, IAF and Navy along with Director General of Coast Guard. The two-day visit is expected to deepen defence co-operation and upgrade defence relations.
Parrikar's visit is significant as it shows India is ready to help its friendly neighbour in its defence needs and this will the first visit by a defence minister in over 45 years. And it comes close on heels of Bangladesh Navy accepting two refurbished Type 035 (Ming)-class diesel-electric submarines (SSKs) from China on November 14. India looks to counter increasing Chinese footprint in the region.
Beijing might be looking to gain some strategic benefits from the submarine deal. But the onus is on the Modi government to see that it does not happen, says Bharat Karnad, a research professor at the India-based think tank Centre for Policy Research, Defense News reported.
Parrikar will be travelling to Chittagong, after meeting Bangladesh Prime Minister Sheikh Hasina in Dhaka. In Chittagong, Parrikar is expected to visit the military academy.
Reports have noted the possibility of India offering Offshore Patrol Vessel to Bangladesh, something India has already exported to other countries in the region. Parrikar might also discuss regular military exercise with Dhaka.
Recently, both the armies conducted joint military exercise called Sampriti 2016.
Parrikar and his defence delegation will also be discussing about a new defence co-operation framework in the works between two countries.
This step will eventually allow India to step up military hardware supplies, transfer of technology and joint exercises and training facilities to Bangladesh military.
Defence analysts in India are unable to understand why Bangladesh inducted Chinese submarines (costing $203 million), as it has resolved its maritime disputes with both Myanmar and India. Bangladesh has no maritime-military threat. Moreover, submarines are considered offensive weapons that are used majorly in sea denials. This will make South Asia more insecure, with some in Pakistan already thrusting nuclear threats on India.
Though, some analysts agree that it could also be a good deal for Dhaka, which was not ready to let it go. It also makes Bangladesh dependent on China for more arms.
Bangladesh has been looking to modernise its military and China has emerged as a major supplier. During the October visit of Chinese President Xi Jinping to Dhaka, China promoted its relationship with Bangladesh from a "comprehensive partnership of cooperation" to a "strategic partnership."
Though buying submarines from China, as Pakistan recently did, it enhances the mistrust between nations. Nevertheless, New Delhi wants cordial relations with Dhaka. The current administration of PM Hasina has proved to be supportive of India's views.
The only irritant between the two countries is the Teesta water-sharing pact. India cannot resolve it as it needs West Bengal's approval, which could be a huge hurdle for India's central leadership.