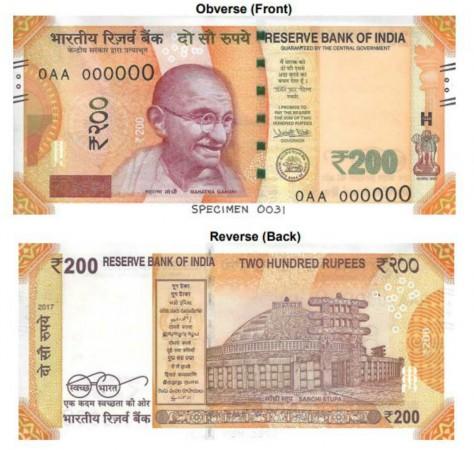 The new Rs 200 denomination notes will be circulated in the system from Friday, August 25, the Reserve Bank of India (RBI) confirmed on Thursday. The move was cleared by Union Finance Ministry and the design has been released by RBI.
The new denomination has a motif of Sanchi Stupa on the back side of the tender, which depicts the country's cultural heritage. The base colour of the note is bright yellow.
RBI had decided to bring in 200 denomination tenders in March, after consulting with the Finance Ministry with an aim to fill the demand for cash in the system.
The broader objective of the introduction of the Rs 200 notes is to eliminate counterfeit currency notes and eradicate black money from the system.
"If the proportion of higher denomination notes is large in the total currency in the circulation, it incentivises hoarding and generation of unaccounted money," group chief economist at SBI, Soumya Kanti Ghosh, told The Economics Times.
Ghosh believes that with the introduction of Rs 200 notes, the economy will be benefited at different levels -- the share of lower denomination notes will be greater in currency circulation and it would also facilitate cash usages from a transaction motive perspective.
After Prime Minister Narendra Modi's demonetisation move in November 2016, the share of higher denomination notes –Rs 500 and Rs 2000—has come down to about 70 percent of overall currency in circulations, which previously stood at 86 percent, the ET reported stated.
Salient Features
Obverse (Front)
1. See through register with denominational numeral 200
2. Latent image with denominational numeral 200
3. Denominational numeral २०० in Devnagari
4. Portrait of Mahatma Gandhi at the centre
5. Micro letters 'RBI', 'भारत', 'India' and '200'
6. Windowed security thread with inscriptions 'भारत' and RBI with colour shift. Colour of the thread changes from green to blue when the note is tilted
7. Guarantee Clause, Governor's signature with Promise Clause and RBI emblem towards right of Mahatma Gandhi portrait
8. Denominational numeral with Rupee Symbol, Rs 200 in colour changing ink (green to blue) on bottom right
9. Ashoka Pillar emblem on the right
10. Mahatma Gandhi portrait and electrotype (200) watermarks
11. Number panel with numerals growing from small to big on the top left side and bottom right side 12. For visually impaired Intaglio or raised printing of Mahatma Gandhi portrait, Ashoka Pillar emblem, raised Identification mark H with micro-text Rs 200, four angular bleed lines with two circles in between the lines both on the right and left sides
Reverse (Back)
13. Year of printing of the note on the left
14. Swachh Bharat logo with slogan
15. Language panel
16. Motif of Sanchi Stupa
17. Denominational numeral २०० in Devnagari Dimension