India cricket team head coach Ravi Shastri created a stir earlier this week when he slammed critics for doubting the team's capacity to win matches on their recently-concluded tour to South Africa.
Shastri, in an interview with Mid-Day, revealed "the biggest problem" with Indian critics and expressed displeasure at the questions posed to the team even as they were dominating the hosts in the ODI and T20I series in the "Rainbow Nation".
The former India captain then raised quite a few eyebrows when he said: "People are happy when you lose."
Shastri's reaction had come after captain Virat Kohli and he himself consistently shut down some journalists at press conferences on the tour.
Even as reactions are pouring in for Shastri's shocking comment, the man-in-charge of the Indian dressing room has reiterated his stand on critics, saying he was "woken up" by people who doubted the magnitude of India's performance in limited overs citing injury concerns in the South African team.
When asked for a reaction to his recent comments about critics, Shastri told India Today: "It [the reaction of critics] doesn't bother me. But when I am asked the question, saying 'a couple of players were not there in the South African team', I wake up. I shoot the guy down, and in no uncertain terms."
He added: "When India play an opposition, that opposition is not at full strength or they are weak. When India lose, no one will say India is weak. If we had lost the last T20 game, one would have said 'Virat Kohli didn't play, that's why we lost the game'.
"So that's my point. I am not going to be bothered about it. The results are there for everyone to see and the boys have every right to enjoy the moment."
Shastri heaps praise on Kohli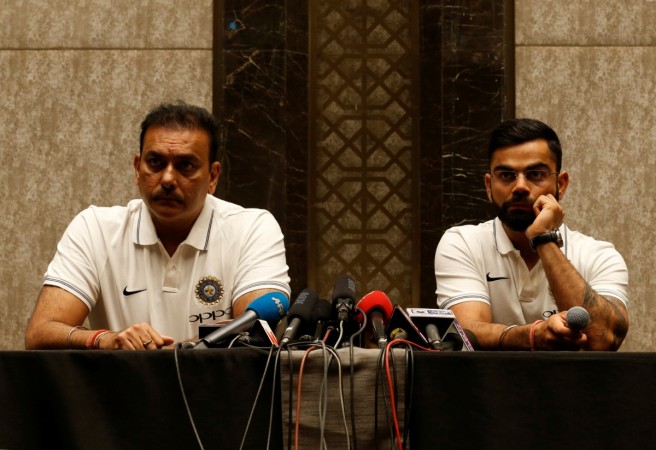 Shastri also said captain Virat Kohli's "tough mind" helped the team overcome the losses in the first two Tests and make a strong comeback in the third and final match of the series in Johannesburg. He said the team gave "two hoots" about critics and never stopped believing in its ability to bounce back.
On a spiteful Wanderers track, Kohli's men showed a lot of courage and came back strongly after conceding a slender lead in the first innings to win the Test by 63 runs. The visitors never looked back from thereon as they went on to crush South Africa 5-1 in the ODIs and 2-1 in the T20I series.
"Virat Kohli leads from the front. He is a tough guy in the mind and that makes a huge difference because it spreads amongst his teammates as well. And we knew even after losing two Tests that we weren't far behind," Shastri said.
"People might say anything, they might write anything, they might want to say whatever they want to, but we give two hoots.
"The captain not for one minute didn't believe India wouldn't win [the Johannesburg Test]. That was the difference."