India cricket team head coach Ravi Shastri has rubbished a media report that claimed the "grassy" nature of practice pitches at Chelmsford forced the touring side to shorten their four-day warm-up match against Essex into a three-day affair.
Shastri revealed that he was asked by the groundsmen if India wanted to get the grass trimmed for their only warm-up match ahead of the five-Test series and that he had rejected the offer.
The Indian coach insisted that his team will not complain about the nature of pitches as they will be up for any kind of challenge to prove their mettle as a touring team.
Indian Skipper Virat Kohli's men were initially scheduled to play a four-day match against the county championship side Essex from July 25. The English county team have also taken a decision to compensate fans who had bought tickets for the scrapped final matchday after discussing with the Indian team.
Shastri: 'In your country, I don't ask questions'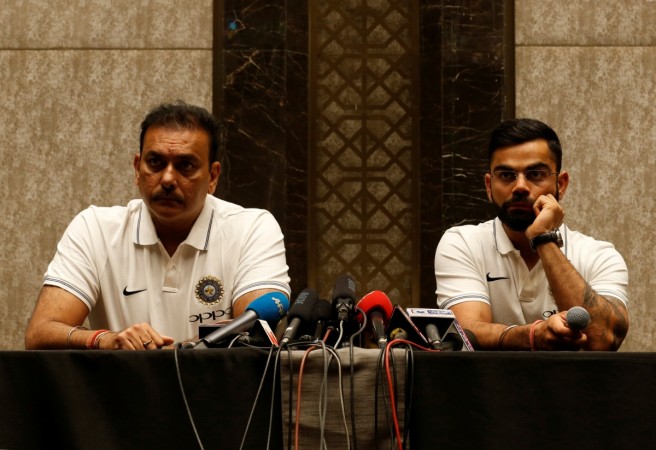 Shastri revealed that the trimming had nothing to do with the pitches, but the visitors were keen on getting an extra day to prepare at the venue of the first Test — Edgbaston.
"Nothing wrong [with the practice pitches]. There was no complaint from the Indian management about anything," Shastri told a media conference.
"My philosophy is very simple [in] your country, I don't ask questions. [In] my country, you don't ask.
"There was good grass on that [pitch]. The groundsmen asked if we wanted the grass to be taken off. I said 'absolutely not'. [It is] your prerogative. You give [the wicket], we play, so when you come to my country you can never ask [about pitches].
"One thing, on this trip, you will never see this Indian team giving an excuse as regarding conditions or the pitch. Our challenge is to beat them. We take pride in performing wherever we go and we want to be the best traveling side in the world.
"The last person to complain will be this Indian team (sic), so I want to clarify this very clearly."
We were ready to play a two-day game: Shastri
Shastri stated that India were ready to play a two-day game and head to Edgbaston. However, Essex managed to convince the visitors not to scrap another day from the warm-up tie.
"We were quite happy to play even a two-day game and use that one extra day for practice here. But they said tickets and all that, so we said okay, 'we will play a three-day game'," Shastri added.
"The reason is to get to the Test match venue because it wouldn't have served any purpose for an extra day here. An extra day there will give us more familiarity with the venue and the conditions where you are playing the first Test."
"It was decided yesterday (during practice). We had a chat (with Essex authorities) and once they explained how they had sold tickets and everything."
India began the opening day on a poor note as Shikhar Dhawan and Cheteshwar Pujara fell without troubling the scorers much. Kohli had won the toss and opted to bat against Tom Westley's team on a hot day in Chelmsford.
India were reeling at 44 for 3 after Ajinkya Rahane's exit but captain Kohli and Murali Vijay steadied the ship and took the visitors to 100 at lunchtime.