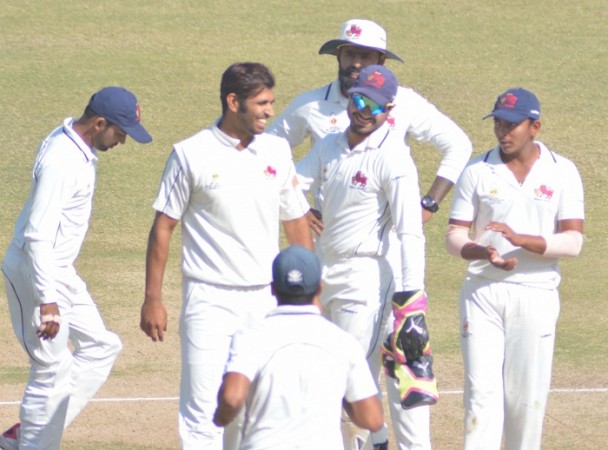 The final of the 2016-17 Ranji Trophy between Mumbai and Gujarat kicked off on Tuesday, January 10, at the Holkar Cricket Stadium in Indore, where Gujarat won the toss and elected to field first. Mumbai managed to put up a first innings total of 228 in 83.5 over.
Also read: World cricket schedule 2017
Prithvi Shaw (71, 93b, 11x4) continued his impressive feat with the bat for Mumbai, but he could not match his performance from the semi-finals in this innings as he got run out by Parthiv Patel. Suryakumar Yadav (57, 133b, 7x4, 1x6) who reached a milestone while batting for Mumbai as he managed to reach 4000+ runs. Since his debut back in 2010, no Mumbai player has managed to score more than him with Abhishek Nayar coming next with 3,264 runs.
Following the duo's dismissal, Mumbai's middle order batsman really struggling to get runs on the board with the likes of Akhil Herwadkar (4, 21b, 1x4), Shreyas Iyer (14, 34b, 2x4) and Aditya Tare (4, 10b, 1x4) barely getting any runs for the defending champions. However, Siddhesh Lad (23, 56b, 4x4) and Abhishek Nayar (35, 94b, 3x4, 1x6) got Mumbai back on track as they set up a decent first innings total of 228.
The Gujarat team lead by Parthiv Patel had a good time with ball and looked confident while fielding too. Rush Kalaria was the most expensive with the ball giving away 66 runs, but towards the end he managed to the wicket of Abhishek Nayar who had just started to find his feet with the bat. RP Singh, Chintan Gaja and Rujul Bhatt all managed to pick up two wickets each for Gujarat.
Gujarat opened their batting innings with Samit Gohel (2, 6b) and Priyank Panchal but could only play for one over as the umpire called it a day.
Score: First innings: Mumbai: 228 all out in 83.5 overs
Gujarat: 2/0 in 1 over
Gujarat trail by 226 with 10 wickets remaining
Bowling: First innings: Gujarat: RP Singh 21-648-2, Rush Kalaria 20.5-5-66-1, Chintan Gaja 16-6-46-2, Hardik Patel 21-4-54-1, Rujul Bhatt 5-1-5-2
Bowling: First innings: Mumbai: Shardul Thakur 1-0-2-0
Fall of wickets: First innings: Mumbai: 1-13 Herwadkar (6.3 overs), 2-54 Iyer (17.1 overs), 3-106 Shaw (34.3 overs), 4-128 Tare (38.1 overs), 5-169 Yadav (56.3 overs), 6-179 Lad (59.3 overs), 7-202 Sandhu (74.5 overs), 8-204 Thakur (76.3 overs), 9-207 Dabholkar ( 78.6 overs)