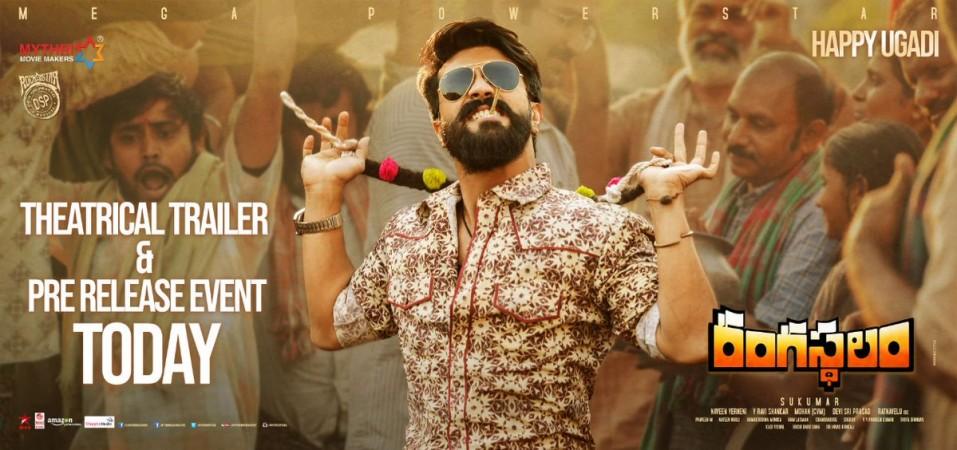 Ram Charan-Sukumar's Rangasthalam trailer has received rave reviews from SS Rajamouli, Varun Tej, and other Tollywood celebs. They said they are eagerly waiting for its theatrical release.
Rangasthalam is one of the highly-anticipated Telugu movies of 2018. Celebs who watched the video soon after it hit the internet, said it has doubled their curiosity for the Sukumar directorial. The movie is set to hit the screens on March 30.
Many celebrities took to Twitter to share excitement about Rangasthalam. They lauded the work of Ram Charan, Samantha, Sukumar and Jagapati Babu.
Check the comments on the movie trailer:
SS Rajamouli: Chittibabu is becoming dearer and dearer.. Trailer did only increase the affection towards him. JB is menacing. Eagerly waiting for the release.. #Rangasthalam
Varun Tej: Rangasthalam trailer is here!Raw, intense and very intriguing!! Sukumar garu films are always a class apart..can't wait for this one! Chitti babu is
Allu Sirish: Ram Charan nails it as Chittibabu, the nice hearted village ruffian. I love how Suku is picking a new backdrop & theme every film. Looking forward to #Rangasthalam on March 30th.
Sreenu Vaitla: Rangasthalam trailer is very nostalgic, Charan looks very native and totally lived in his character,@Samanthaprabhu2 has adapted herself totally to the look..all crafts are brilliant,I congratulate @MythriOfficial for handling the lavish venture so well.Cngrts to the entire team.
Bobby: #Rangasthalam It looks like a complete package for every movie lover. Considering the @ThisIsDSP audio a blockbuster already, this trailer raised the bars.Waiting to watch Ramcharan garu in a whole new avatar.All the best to Sukumar garu and team.
Sumanth: Really does stand out from everything else around. Looking forward to this! #Rangasthalam
SS Karthikeya: Oka class director, ee saari mass cinema thiyaali ani decide aithe ila untadi. Canr is wait to experience it from Sukumar sir. Charan is mesmerising in every frame ! The innocence in the eyes and the confidence in the body language! #Rangasthalam #RangasthalamTrailer
BVS Ravi: Very intriguing theatrical of #rangasthalam looking authentically rural and rustic with #RamCharan stealing the show and moon @Samanthaprabhu2 seems to hv left a mark to last forever. @aryasukku aiming for a big one again this time! Good luck!