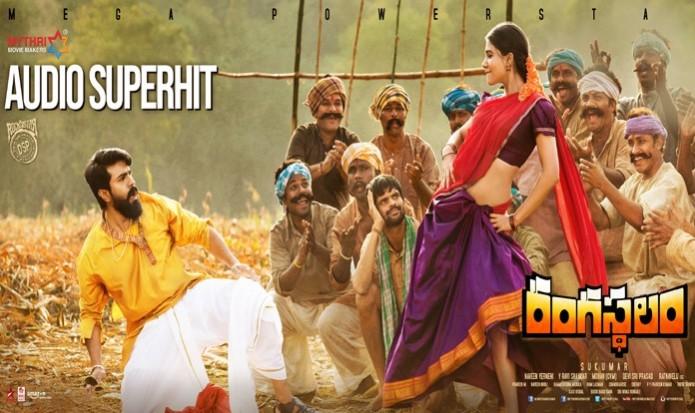 The theatrical trailer of Rangasthalam starring Ram Charan and Samantha shows that the Sukumar directorial is going to be a promising entertainer for all sections of the audience.
As reported earlier, Rangasthalam is a period revenge drama that is set in the 1980s. The makers of the movie released its theatrical trailer at its pre-release function on March 18, making it the best Ugadi treat for the fans. The 2-minute-long video has been successful in increasing the viewers' curiosity and expectations from the movie.
The trailer offers enough hints at the basic plotline of Rangasthalam. It also gives the viewers a clear idea that the film is set against the backdrop of village politics and it will not offer something new in terms of story. But Sukumar's treatment of the subject is going to make all the difference, making this drama a winner at the box office.
As per the trailer, Rangasthalam deals with the story of a deaf engineer Chitti Babu (Ram Charan) and his friend Kumar Babu (Aadhi Pinisetty). The two are fighting against the power-hungry village head (Jagpathi Babu), who has been president of the village for 30 years and exploited the villagers.
A communist leader (Prakash Raj) is assisting Kumar Babu to fight against the village leader, while Chitti Babu extends his support to him. This revenge saga also features the love story of Chitti Babu and Ramalakshmi (Samantha Akkineni).
Ram Charan earthy looks blended with his intense and energetic performance is going to be the highlight of the film. Samantha will appear in a never-seen-before avatar of a village belle. Her chemistry with Cherry is already making waves among the fans. The trailer also throws light on the roles played by Prakash Raj, Jagapati Babu, and Aadhi Pinisetty, who are also going to be the assets of the film.
The trailer shows that Rangasthalam will have all the commercial ingredients. Its songs have already struck the chord with the music lovers and doubled their expectations. The picturization and beautiful locales will make the film a visual treat. The video offers a glimpse at the brilliant stunt choreography and intriguing art direction. These elements at the technical front will make this movie a winner all the way.
As per the trailer, director Sukumar has written some punch, sentimental and meaningful dialogues for Rangasthalam. Here are a few of the dialogues, which Ram Charan is seen mouthing.
" Maa engine ki kulam gothralundav. Ye senainaa thadipeththadanthey."
"Kumar Babu ki Sittibabane thammudunnadu. Aadni daatellalante ee Sittibabu gaadi gundekaay daatellalani seppandi."
"Sittibabu gaadi seviloki maatelladam kashtam gaanee, okkasarellindhante, aa sevilone vundipoddhayya."
However, the trailer of Rangasthalam started trending on the social media, minutes after it hit the internet. The video has crossed 2 million views in less than 12 hours of its release. It has received 2,425,441 views, 126,000 likes and 6,879 comments as of 10.30 am on Monday.