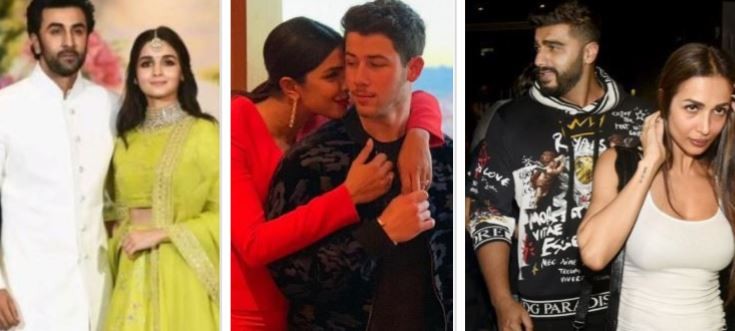 Someone had said it right – There is no age to fall in love or fall out of it. And these 10 incredible Bollywood jodis, with humongous age gap has proved that just right. From Ranbir Kapoor- Alia Bhatt to Priyanka Chopra – Nick Jonas; let's take a look at celeb couples with more than 10 years of age gap.
Priyanka Chopra - Nick Jonas: After Deepika Padukone and Ranveer Singh, the next big fat Indian wedding in Bollywood is going to be that of our desi girl PeeCee with beau Nick. And when it comes to age, it's just a number for them. As Priyanka is 36 years-of-age, Nick is just 26.
Alia Bhatt – Ranbir Kapoor: A love story that we had all been waiting for finally happened in 2017. And nothing could come in between the two, not even age. While Ranbir is 36 years-of-age, Alia is just 25.
Malaika Arora – Arjun Kapoor: The latest entrant to the age-gap club are Malaika Arora and Arjun Kapoor. While Malaika is 45 years old, Arjun is just 33.
Kareena Kapoor – Saif Ali Khan: The Nawab couple of Bollywood, Kareena and Saif went against all odds to conquer love. While Saif is 48 years-old, our Bebo is just 38.
Mira Rajput – Shahid Kapoor: After a series of affairs, Shahid Kapoor shocked everyone with the news of his marriage to a much younger Mira Rajput. While Shahid is 37 years old, Mira is just 24.
Amrita Singh – Saif Ali Khan: One of the wildest love stories of the 80s was that of Saif Ali Khan and Amrita Singh. Breaking all norms, the couple tied the knot but later parted ways. While Saif is 48, Amrita is 60.
Manyata Dutt – Sanjay Dutt: After two failed marriages, Sanjay Dutt finally found love in the arms of Manyata Dutt. While Sanjay is 60 now, Manyata is just 39.
Genelia – Retiesh Deshmukh: The cutest couple of Bollywood who reinforced our belief in the institution of marriage have almost 10 years of age difference between them.
Saira Banu – Dilip Kumar: Their eternal love story will always remain cherished in our hearts. While Saira Banu is 74 years-of-age, Dilip Kumar is 95.
Hema Malini – Dharmendra: When the 'He' man of Bollywood married the 'Dreamgirl' of Bollywood, we all knew it was a match made in heaven. While Hema is 70 now, Dharmendra paaji is 82 years-of-age.