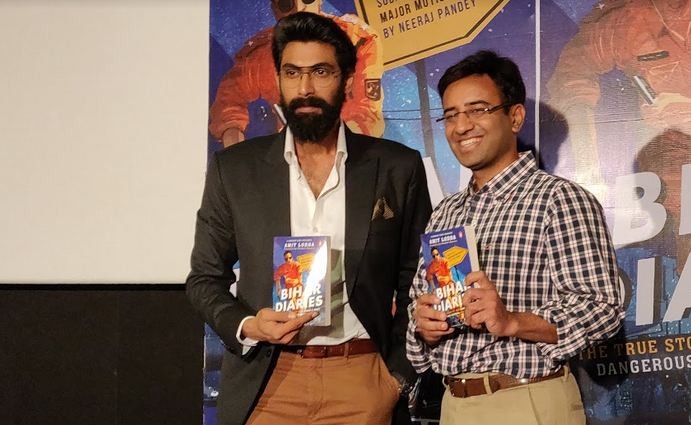 Baahubali actor Rana Daggubati, who launched Amit Lodha's book Bihar Diaries in Hyderabad, could not stop raving about it. He described it as an absorbing tale of Policemen and their life.
Bihar Diaries is a much-talked-about book, written by Amit Lodha, a 1998 batch IPS officer of the Bihar cadre. The book that narrates a thrilling tale of how the firebrand officer captured one of Bihar's dreaded gangsters, Vijay Samrat. It was earlier launched on July 15 in Delhi by Virender Sehwag.
Rana Daggubati, who is an avid reader himself, couldn't resist but to get himself a copy of this absorbing book. He felt the riveting book deserves a wider audience, and he absolutely thrilled to introduce the book in Hyderabad. He released the book along with Pullela Gopichand at an event held in the city on July 26.
Addressing the media, Rana Daggubati said that Bihar Diaries is a tribute to the blood and sweat of the Indian police that goes into keeping the country free from crime. He said, "The book is what we ought to know - the bravery and honesty of our police force that ensures we sleep well at night. There is a great level of cynicism in general masses about our authorities, but it is important for us as a country to listen to these tales."
The Baahubali actor added, "It displays great strength in character and integrity by our forces, make us appreciate the law and order even more. The sacrifices these officers make every day are truly admirable!! Most people associate glamour with a policeman's job, but in reality, there is a lot of blood, sweat and some tears too. Losing a colleague or having your family in the line of danger is a professional hazard we face almost every day."
Amit Lodha said, "As much as the book is about the thrilling cat-and-mouse chase of Lodha's efforts to catch one of the most feared criminal lords of Shekhpura, the book gets its character from Lodha's surprisingly, interesting style of writing, peppered with humour and the endearing anecdotes of his wife and children. It so happens that the fearless braveheart is also a writer at heart."