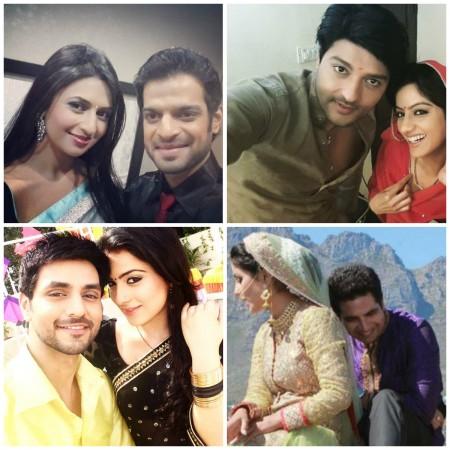 Television's onscreen couples have always found their way to the hearts of millions of viewers, and some have even been given nicknames.
Raman and Ishita Bhalla of "Yeh Hai Mohabbatein"
Together they are called 'Ishra' by the fans of the insanely popular daily soap, which has already clocked 400 episodes. While Karan Patel's fans wrote to him saying they love him irrespective of what anyone says, Divyanka Tripathi seemed to have made a few mothers envious with her portrayal of 'Ishima'.
"I get very touching reactions from fans these days, especially from children who like the role. It's funny and at same time touching how many of these kids tell their mums, "Look how loving and caring Ishima is... Why can't you be like her?", Deccan Chronicle quoted her as saying.
Sooraj and Sandhya Rathi of "Diya Aur Baati Hum"
This TV couple shared a great rapport offscreen until recently when Deepika Singh planted a tight slap on Anas Rashid's face after the actor allegedly touched her inappropriately while filming a particular scene.
However, the actress recently clarified saying they were professionals and harbouring any grudge would reflect onscreen adding they were long past the misunderstandings.
"Whatever we are today, we give full credit to our character of Sandhya and Sooraj for all the love and affection from our audience so I would like to tell our fans that we have resolved our differences," she told DC in an interview last month.
Ranveer Waghela and Ishani Parekh of "Meri Aashiqui Tum Se Hi"
These two are a fairly new but loved onscreen duo. While in reel, they share a love-hate relationship, both Shakti Arora and Radhika Madan are great friends when not working for the camera.
Talking about their impeccable chemistry in the series, Radhika says it all comes very naturally to them. "It all comes very naturally. Sometimes we make up our own dialogues in between shots and forget about the script. So I guess there's something that clicks," she informed the leading daily.
Naitik and Akshara Singhania of "Yeh Rishta Kya Kehlata Hai"
The story follows the lives of a young couple, Naitik (Karan Mehra) and Akshara (Hina Khan), who are thrown into unavoidable circumstances time and again. "The public relates to our characters in this serial. They tell me, 'we cry when you cry.' They tell me, 'the same thing has happened to me too.' And they ask me, 'why don't you speak up? you should speak up for yourself'," Hina told India Today in an interview from 5 years ago.
Now that you've got your background check on TV's most popular onscreen couple, vote and tell us which one of them is the best.