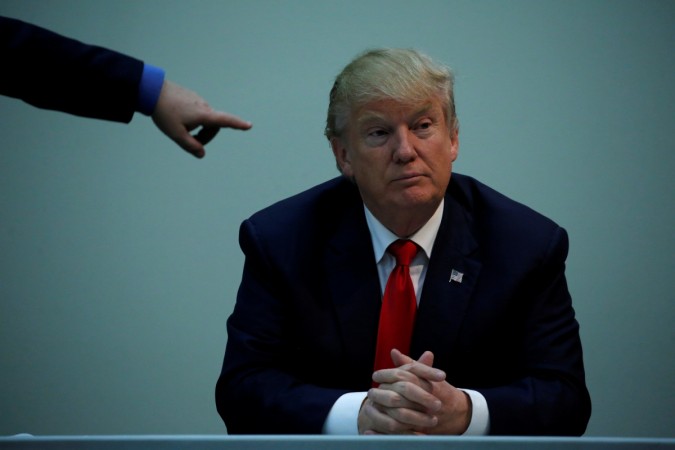 Filmmaker Ram Gopal Varma (RGV) is all thrilled over the victory of Republican Party's nominee Donald Trump in US presidential elections. The director has congratulated himself for the latter's win.
Donald Trump shocked the whole world with his remarks on Muslims and terrorism a campaign in June. While many were upset with his comments, Ram Gopal Varma was one of few people, who were impressed with his speech. In a series of tweets, the filmmaker had praised him and also predicted that he would become the next president of the United States of America.
Ram Gopal Varma had tweeted on 14 June: "Am sure @realDonaldTrump will win bigger than KCR in Telangana n Narendra Modi in India..Thank God Americans are finally getting sensible Whoever doesn't support @realDonaldTrump has to be intellectually dumb or politically blind or most probably both."
Today, the results of US presidential elections were announced and Donald Trump emerged as 45th president of the country. Soon after he heard the news, Ram Gopal Varma took to his Twitter handle and congratulated himself. He wrote: "Am congratulating myselffor predicting a Trump victory✌️️more than 4 months ago..I am throwing a Trumping party tonite"
He continued: "All those people who thought Trump was nonsensical are now proved to be nonsensical Ha ha All places Obama won last, Trump won now inspite of Obama campaigning against him thus proving he defeated Obama too apart from Hillary Obama's and Michelle Obama's faces must have turned blacker than this with today's trumping result "
Meanwhile, RGV also made a naughty remark about Donald trump's wife Melanija Knavs. He tweeted: "For some reason I like the present First Lady much more than the previous..can anyone tell me why? US got its hottest 1st Lady since all wives of presidents starting from George Washington ..1002 kisses to Trump for making America Greater Advancement in human thinking is to elect a man who in his 60's can talk about grabbing a woman's Pussy..Honesty wins..Unka America Mahaan"
Ram Gopal Varma predicted that Donald Trump would be the greatest president of the US. He posted: "I predicted Trump's win and now my prediction is he will be greatest president ever. Lincoln, Roosevelt, Kennedy etc will be forgotten. A great lesson to b learnt from Trump's victory is that even after killing political correctness u can become the greatest political leader."
He added: "Time again it's proved that Out of the box attitude always works with people..examples are NTR,KCR Modi and Donald Trump. People empathise with imperfections, quirkiness,impulsiveness and unpredictability and that's why they got attracted to Trump. If Hillary won none would bother to follow what she would do as we know there won't be surprises..but with Trump everyone will be following."