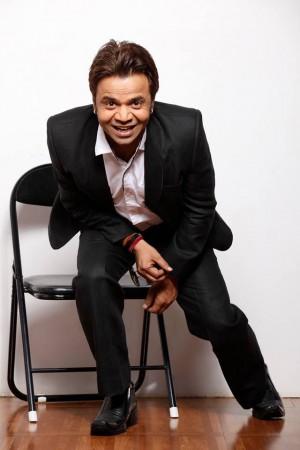 For the last two decades, in almost every Bollywood movie the go-to option for a hearty laughter has become anything and everything with Rajpal Yadav in it.
The man who's celebrating his 46th birthday today, has made us roar and cry and pretty much lose our senses – all from laughter – and has grown into a household name with his iconic performances in movies like Bhool Bhulaiyya, Chupke Chupke, Phir Hera Pheri, Mein Meri Patni Aur Woh, and many more.
But that isn't all. Yadav made his Hollywood debut back in 2014 with Bhopal: A Prayer for Rain, and on the brink of his second Hollywood release – Barefoot Warriors.
He gets candid with IBT India, about his views on acting, challenges and the pros and cons of being a 'comedian' in Bollywood.
The upcoming project, written and directed by Kavi Raz and produced by Jatinder Jay Minhas, under the banner of Minhas Films LTD is based on a true story of India's first football team in the 1948 London Olympics and the 1950 Football World Cup.
"The Indian team had to withdraw itself from the 1950's World Cup because players weren't allowed to play barefoot, and this story showcases the inspirational journey of dreams coming true," shares Yadav about the plot of the movie.
In the movie, the comedic genius plays the role of Jogi, who's a guide-slash-driver. The rest of the cast sees multiple Indo-American actors including Sean Farris, who's playing the lead character 'Christian'. Other eminent faces from the cast include Darren Tassell and Elisha Kriis.
Making a shift from Bollywood to Hollywood might seem like a laborious job, but he makes it sound ever so simple. "In Bollywood movies, I have to speak in Hindi, and for this one, I had to deliver dialogues in English. It was quite unique."
But language is never the issue says the man, who aims at "delivering performances in each of the several regional languages that India is made up of, once I've acted in my 100th film." And he believes he has been blessed enough to act in Bengali, Punjabi, Marathi, Kannada, Gujarati, and Telugu – with his characters' dubbing done by his own self.
"It's not about adding a list of languages to my acting resume," he mentions. "It's more about the essence and gravity of each language that we have here. As an actor – or a creative person – every language becomes much more your own once you adapt and deliver a performance in it."
The man had started off with nukkads (street plays) and then moved on to television roles and finally to movies. His first TV appearance was in the popular serial Mungeri ke bhai Naurangilal and after 20 years, he believes his lady luck has been extremely kind to have allowed him a chance in every acting platform.
But being such a stellar icon in comedy comes with its share of cons, believes the man who had played the serious character of the rickshaw driver, around whom the whole story of Bhopal: A Prayer for Rain revolves, reminding the need for discipline that comes with acting in a Hollywood movie.
Speaking of getting stereotyped as a 'comedy actor', Yadav confidently says "I'm a halwai (confectioner) whose every rasgulla (an Indian sweet) has its own distinct, remarkable taste."
And sure enough – be it the professionalism in the interaction between the two biggest film industries of the world, or the challenges he had to overcome to get it right for Barefoot Warriors, Yadav is "feeling good" about it.
"I love challenges. A project without challenges holds no fun for me. If you don't feel challenged by a role, it means you and your character don't have the required communication. And if that's not there then the performance you delivered had no interaction with the viewers."
The movie is still in the post-production phase, but with his upcoming projects, Yadav has been rather selective too. "I'm happy with the collection. A few leads, a few supporting roles – but it's all about quality over quantity."
And in his mid-40s, Yadav believes he's finally fit to understand the value of films and is being picky about his roles, so it shows that "Rajpal Yadav, a graduate from National School of Drama has acted in the project."