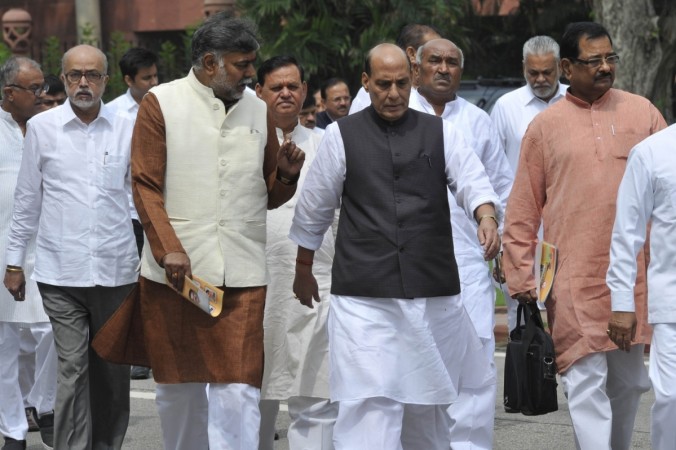 Union Home Minister Rajnath Singh's speech at the meeting of the Home Ministers of the South Asian Association for Regional Cooperation (SAARC) countries in Islamabad on Thursday was blacked out. Media outlets were barred from covering it, after he slammed Pakistan's stance on terrorism in a variety of ways.
Private channels in Pakistan were not allowed to broadcast any of the speeches of the home ministers, while state-controlled PTV broadcast Prime Minister Nawaz Sharif and the Pakistan Interior Minister's speech. However, Ministry of External Affairs spokesperson Vikas Swarup later said it was customary for such speeches to take place in camera, to ensure free and fair discussion.
Singh took on Pakistan on a variety of fronts. Probably the biggest snub from Singh to Pakistan came in the form of the statement: "There should be no glorification of terrorists as martyrs." This came in light of Pakistan choosing to mark a day for what it called was the "martyrdom" of self-styled Hizbul Mujahideen commander Burhan Wani, who was killed in Jammu and Kashmir a few weeks ago.
Read: The full text of Home Minister Rajnath Singh's speech at SAARC meeting in Pakistan
He also said just "condemnation of terrorism is not enough," in a swipe at regular statements from Pakistan where they condemn terrorist attacks, but there is rarely any overt sign of the State machinery acting against those responsible.
He had started off by saying: "There should be strongest of action not only against terrorists but also against organisations, individuals and nations who support terror." This was a clear indication at Pakistan, which has been known to export terror to India, and Hafiz Saeed, who organised protests all across the country against India's actions in Kashmir.
Saeed, a man wanted by both the United States and India, is roaming free in Pakistan, and also organised protests against Singh when he arrived in Pakistan on Wednesday for the SAARC meet. Saeed, founder of Lashkar-e-Taiba and chief of Jamaat-ud-Dawa, has joined hands with the Islamic State group in Afghanistan, according to Afghan authorities.
Singh also said: "There is no good or bad terrorism. Terrorism is terrorism." This was in retaliation to Pakistan's statement from a few years ago that there was a "good Taliban" and a "bad Taliban," and that the Pakistan authorities were supporting the former.