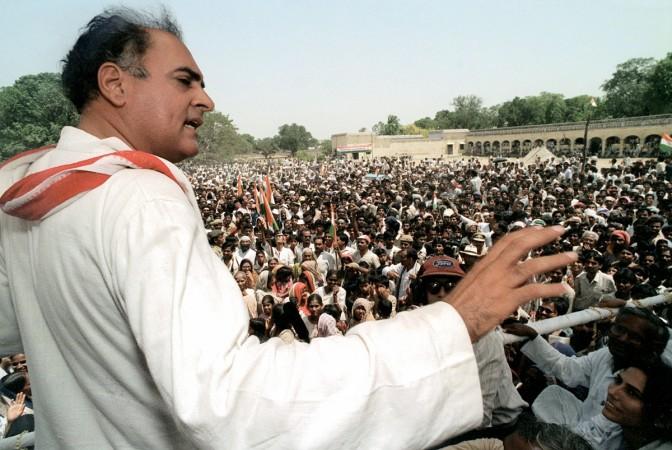 On the 27th death anniversary of former Indian Prime Minister Rajiv Gandhi, several political figures from Congress paid tribute to the Nehru-Gandhi scion on Monday, May 21.
A few among them includes son Rahul Gandhi, wife Sonia Gandhi, daughter Priyanka Gandhi, West Bengal chief minister Mamata Banerjee and former prime minister Manmohan Singh among others.
The swearing-in ceremony of JD(S)' HD Kumaraswamy to the Karnataka Assembly as the new chief minister was also deferred to Wednesday, May 23, as today marks Rajiv Gandhi's death anniversary.
Rajiv Gandhi, the sixth prime minister of India, was assassinated by a suicide bomber from the Liberation Tigers of Tamil Eelam (LTTE) on May 21, 1991 in Sriperumbudur, near Chennai, Tamil Nadu. The incident also killed 14 others present during the former prime minister's campaign.
Rahul took to Twitter to pay his tributes with an emotional message along with his father's picture:
"My father taught me that hate is a prison for those who carry it. Today, on his death anniversary, I thank him for teaching me to love and respect all beings, the most valuable gifts a father can give a son."
"Solemnly and very fondly remembering former Prime Minister Rajiv Gandhi on his death anniversary," CM Mamata Banerjee tweeted.
Here are some of the tweets from famous Indian political figures:
My father taught me that hate is a prison for those who carry it. Today, on his death anniversary, I thank him for teaching me to love and respect all beings, the most valuable gifts a father can give a son.

Rajiv Gandhi, those of us that love you hold you forever in our hearts. pic.twitter.com/BBjESe4D3S

— Rahul Gandhi (@RahulGandhi) May 21, 2018
My tribute to the illustrious leader Shri Rajiv Gandhi ji on the 27th anniversary of his martyrdom - a man who revolutionised our nation in many a way. #RememberingRajivGandhi

— Jyotiraditya Scindia (@JM_Scindia) May 21, 2018
Solemnly and very fondly remembering former Prime Minister Rajiv Gandhi on his death anniversary

— Mamata Banerjee (@MamataOfficial) May 21, 2018