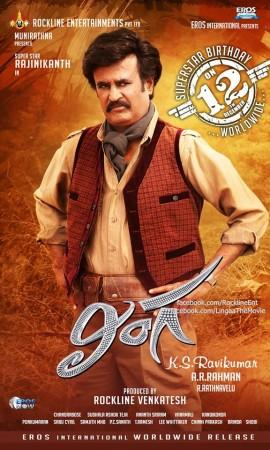 "Lingaa" producer Rockline Venkatesh has hinted that the Tamil superstar may make his political debut in 2016 Tamil Nadu Assembly Elections.
Rajinikanth is the most popular actor in Tamil Nadu and many of his fans want him to enter politics. This led to numerous speculations on several occasions, especially after Narendra Modi met him ahead of the 2014 Lok Sabha elections. But, the superstar has kept mum on the issue and maintained his distance from politics.
Now, the time seems ripe for Rajinikanth to enter politics. Producer Rockline Venkatesh recently spoke about Rajini's political ambitions when he was quizzed about the controversy surrounding the box office collection of his latest venture, "Lingaa".
During an exclusive interview with The Economics Times, Venkatesh said that distributor Singaravelan started the controversy by launching a campaign just three days after the movie released. The producer blamed the distributor for setting up a conspiracy against Rajinikanth, who was deeply hurt by the development.
"I think it is politically motivated to tarnish the superstar's name, weaken his image, and scare him away from politics. Rajnikanth is a very big name in Tamil Nadu. Singaravelan, I suspect, is part of this conspiracy to deny Rajni Sir his political space. TN elections are due next year, and Rajni Sir cannot afford to miss the opportunity this time because he is only 64 now," Venktesh told ET.
When asked about Rajinikanth's entry into politics, the producer said that the superstar wants to join politics and serve the people of Tamil Nadu. He has a clear vision for the state.
"He should enter politics one hundred percent. Party does not matter. Rajni Sir's intention is to serve people. He is clean and his intentions are clear. He has a vision for Tamil Nadu. I am one of his millions fans. His fans' desire is that he enters politics and serves people," Venkatesh said.