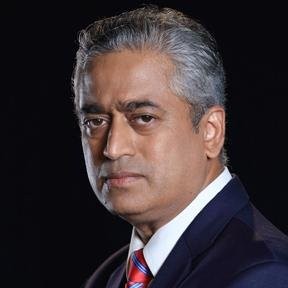 The India International Centre (IIC) in New Delhi is usually a hangout for retired bureaucrats who meet over tea and sandwiches to reminisce over the old days and discuss the current state of affairs.
Once in a while, however, the hurly-burly of the world outside its walls, creeps in and takes over. The evening of Tuesday, December 20, 2016, was one such occasion when the OP Jindal Global University inaugurated its School of Journalism & Communication at the IIC.
While the University's Founding Vice-Chancellor, Prof. (Dr) C Rajkumar, enumerated the virtues of a young, yet rapidly-growing, institution (an astounding six schools have been set up under the OP Jindal Global Unversity in the seven years of its existence) and Dr (Mrs) Pankaj Mittal, Additional Secretary, University Grants Commission, spoke of the need for universities to not just create a relationship with Industry but also with Society.
Two other invitees — Professor Tom Goldstein Professor & Dean Emeritus, UC Berkeley Graduate School of Journalism & Former Dean, Columbia Journalism School; and Professor Peter H. Schuck Simeon E. Baldwin Professor of Law Emeritus, Yale University & Chair, International Board of Advisors, JGU — also spoke of the need for Media to maintain integrity and balance in a world after Donald Trump where fake news rasied its head, the US President-Elect and of the threats faced by Media today.
The overflowing hall that held over 400 members of the media, academicians, students and many others, was eager to hear veteran journalist Rajdeep Sardesai, Consulting Editor, India Today Group, deliver his lecture on The Ethics and Professional Obligations of Journalists in a Democracy.
Son of the illustrious test cricketer, Dileep Sardesai, who Vijay Merchant once called the "renaissance man of Indian cricket" and a lawyer by education, Rajdeep did not disappoint the audience for even a minute in a talk that spanned a little over half-an-hour, but left the audience thirsting for more.
From a humorous and heartwarming opening, where he recounted how politicians and film stars could have their progenies continue in the same profession by virtue of their surnames (Gandhi or Bachchan), cricketers could not because the sport demanded a level of talent that came not from DNA, but from dedication, hard work and sheer talent which, he admitted, he did not have.
From journalists being "fact-checkers and observers to becoming propagandists, from sense giving way to sensationalism, credibility to chaos, noise to news and conscience to commerce", Sardesai talked of fake news in the Post-Truth Society ruled by an impulsive social media where "talk comes cheap, facts do not".
The full speech can be seen here:
As he railed against the state of affairs in Indian Media today and cautioned young, impressionable students seeking a career in the field, Sardesai struck a fine balance between being both the lighthouse and the ship on a stormy sea.
After all, reportage is about striking a balance eventually. About chasing not just Television Rating Points but "Trust & Respect Points" as Sardesai mentioned. He could, in fact, well be the angry, still young man of Indian media.
For the Jindal School of Journalism & Communication, this may well be its biggest challenge and its differentiator, if it can give to the profession a batch of students who cover news and not be cowered.