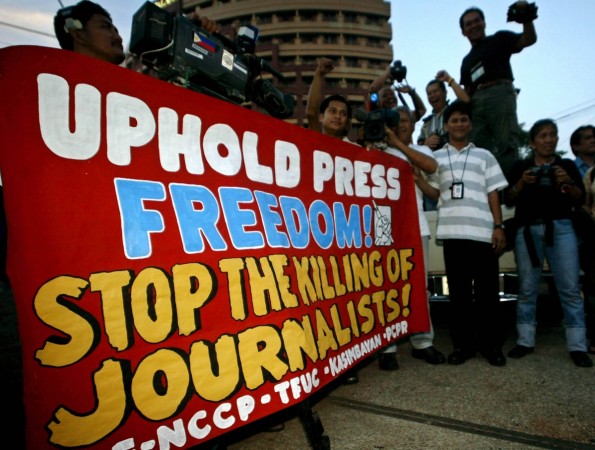 Sedition and defamation cases are not the only way in which journalists are silenced. A new report highlights the infliction of violent means on vulnerable small town media-persons through case studies based on probe in three deaths.
The Committee to Protect Journalists' report is titled "Dangerous pursuit: In India, journalists who cover corruption may pay with their lives." It has been written and complied through the efforts of CPJ's Asia Program senior research associate Sumit Galhotra and freelancers such as Raksha Kumar and Aayush Soni. The foreword has been written by award winning journalist P Sainath.
The report outlines the crisis faced by journalists in India and also makes recommendations to concerned stakeholders to improve the situation.
In the report, CPJ claims that nobody has been convicted in the murder of 27 journalists since 1992. CPJ says that it is aware of only one murder in the past 10 years in which a suspect was convicted. However, the suspect was released on appeal.
It also cites the National Campaign for People's Right to Information which claims that between March 2007 and April 1, 2016, at least 58 activists—those who regularly file Right to Information requests—have been killed, and more than 250 have been harassed or assaulted.
CPJ also cites a 2015 report on the safety of journalists, where the Press Council of India (PCI) makes recommendations regarding enactment of a nationwide journalist safety law.
"Even though [the] country has robust democratic institutions and vibrant and independent judiciary, the killers of journalists are getting away with impunity. The situation is truly alarming and would impact on the functioning of the democratic institutions in the country," PCI said while adding that it also wants to see the Central Bureau of Investigation, or another national-level agency, investigate cases of journalists murdered and to complete its investigation within three months.
The sort of nationwide safety law for journalists is already in use in Colombia. There, a national protection mechanism provides security for journalists under threat, including supplying bulletproof vests, police bodyguards, and offering relocation. Similar facilities are also available in Mexico, where a federal prosecutor's office was set up to investigate attacks on freedom of the press and freedom of expression.
CPJ also cited its own 2015 impunity report where it questions India's commitment to demonstrate an international accountability. The government had failed to provide updates on investigations into journalist killings for the 2014 biannual impunity report of the Director General of UNESCO, the U.N. agency mandated to promote freedom of expression.
Briefs of the three Case Studies as mentioned in the report :
1. Jagendra Singh: discredited after death
Before dying from extensive burn injuries in June 2015, freelance Jagendra Singh accused a police officer of setting him on fire. Local police disputed his account and tried to downplay his journalistic credentials. More than a year later, the case is still being investigated at state-level and no arrests have been made.
2. In search of justice for Umesh Rajput
Umesh Rajput, a reporter with the Hindi-language daily Nai Dunia, was shot dead outside his home in January 2011. The investigation into his murder has been marked by delays and key evidence has gone missing, his family's lawyer says. The case was finally handed to the Central Bureau of Investigation, but Rajput's family is still waiting for justice.
3. Mysterious death of Akshay Singh
Akshay Singh, an investigative reporter for the prominent India Today Group, was working on one of the country's largest corruption scandals when he unexpectedly died during an interview. In part because of his high profile, Singh's case was moved to the Central Bureau of Investigation relatively quickly: a marked contrast to the way the deaths of the other journalists featured in this report were handled.
Reccomendations of CPJ
To the Central Government:
1. Bring together a group of experienced jurists, journalists, scholars, and experts specializing in freedom of expression issues to submit draft proposals for a national-level journalist safety and protection mechanism and a method to federalize crimes against free expression, which is a guaranteed right under Article 19 of the Indian Constitution.
2. Study best practices used by nations facing similar threats to their media, including Colombia, where a national protection mechanism was set up to provide security, and Mexico, where a federal prosecutor's office was set up to investigate attacks on the press and freedom of expression.
3. Convene a parliamentary hearing on the issue of impunity in anti-press violence to identify shortcomings in providing justice and ways to overcome challenges of capacity in law enforcement and the judiciary.
4. Provide sufficient resources and political support to improve the capacity of authorities—including the judiciary, the Central Bureau of Investigation, and the police—to conduct exhaustive and timely investigations and trials relating to crimes against journalists, including freelancers, bloggers, and those who publish news on social media.
5. Condemn publicly and unequivocally all killings of journalists.
6. Publicly recognize the International Day to End Impunity for Crimes against Journalists, held annually on November 2.
7. Respond with detailed information on the judicial status of all cases of killed journalists and the steps taken to address impunity, as requested by UNESCO's director-general for the bi-annual report on the Safety of Journalists and the Danger of Impunity. Make public the full responses.
To the Central Bureau of Investigation:
Expeditiously complete investigations into the 2015 death of Akshay Singh in Madhya Pradesh and the 2011 murder of Umesh Rajput in Chhattisgarh; identify suspects and bring them before the appropriate court of law.
To the Uttar Pradesh state government:
1. Immediately transfer the investigation into the 2015 death of Jagendra Singh in Uttar Pradesh from state police to the Central Bureau of Investigation.
2. Spread greater awareness of the safety hotline set up for journalists in the state and take steps to investigate promptly any reports of threats or attacks.
To the Chhattisgarh state government:
1. Order the police to immediately cease any and all intimidation of journalists attempting to do their work. Ensure that any actors, including the anti-Maoist group Samajik Ekta Manch, who harass or threaten journalists, are held to account.
2. Release any journalists imprisoned in the state in connection to their work.
To the Indian media:
1. Better investigate and report on issues of anti-press violence, including individual attacks, threats, and harassment, regardless of the victim's media affiliation.
2. Sign on to and implement the principles put forward by the ACOS Alliance (A Culture of Safety Alliance) and provide appropriate security and hostile-environment training for staff and freelancers; support journalists who are threatened or attacked; and hold police or other investigating agencies accountable for thorough investigations.
3. Employers should provide up-to-date press identification cards to all media staff involved in newsgathering, including stringers and part-time employees.
4. Employers should establish clear mechanisms for staff and freelancers to report threats, harassment, or attacks, and offer appropriate support.