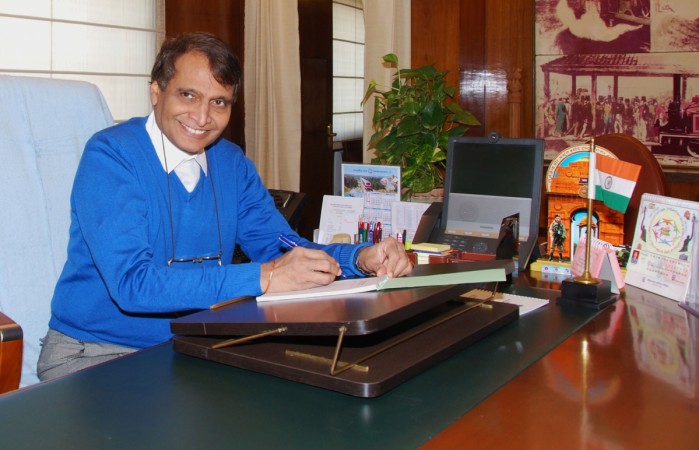 Railways Minister Suresh Prabhakar Prabhu on Saturday (June 10) announced that his ministry has already started investing to connect India with its neighbouring countries more. Especially, the government is trying to focus more on the rail connectivity with Bangladesh.
Mumbai-Goa Tejas Express to start from May 22; here's a list of facilities offered by the luxurious train
"The Railways have already invested enough to connect to our neighbouring countries like Bangladesh, Nepal, Bhutan and Myanmmar," Prabhu said.
"We had talks with Bangladesh Prime Minister Sheikh Hasina during her visit to India (in April) and we had a meeting with a couple of her ministers in Delhi two days ago," he added after dedicating a number of projects at the Howrah Railway Station.
Prabhu pointed out the geographical and cultural similarities between Bangladesh and West Bengal and said the Indian government had high hopes from the rail connectivity as it would further strengthen the relation between the two countries.
The two countries are currently connected by the Maitree Express – also called the Friendship Express – that runs between Kolkata and Dhaka.
Prabhu said West Bengal has lost its past importance as a centre of commerce and there is a need for investing in its infrastructure and referred to the Centre hiking the share for the state in the railway budget by around 300 per cent in 2017-18 compared to 2014-15.
"West Bengal is an important state. Kolkata had been a very important commerce centre in Asia and contributed to the country. I am hopeful that the city will be able to restore its lost importance and for that there is need to develop the infrastructure through investments," he said.
Prabhu also announced that his ministry was also working on many projects in the Eastern Railway Zone including the commissioning of the double line between Beldanga and Cossimbazar in Sealdah division, a third line between Gadadharpur and Tarapith Road stations in Howrah division and a few more.
The railway ministry is also working on a number of projects in South Eastern Railways zone like extension and upgrading stations in Santragachi-Amta suburban section.
Prabhu inaugurated the commencement of the construction of an underground station at Esplanade under Kolkata East-West metro and a new escalator at Rabindra Sarobar station of Kolkata Metro railway.