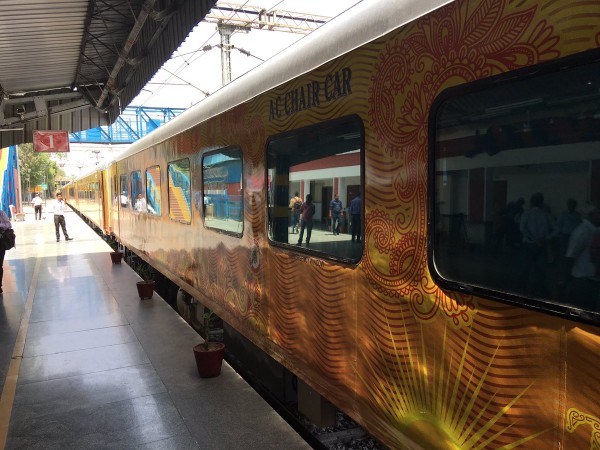 Have you ever thought of travelling in an Indian Railways train without haggling with the tea vendor for not pouring enough milk in your beverage or reading your favourite novel at night without getting into heated arguments with passengers who switch off lights early? Tejas Express, which is scheduled to be launched on May 22 between Mumbai and Goa, will not only have hot beverage vending machines and berth reading light integrated with calls bells, but many more facilities.
The top 5 most luxurious train journeys in India, for those who like the good life
Developed by Rail Coach Factory, Kapurthala, the first rake was on display in Delhi on Friday, May 19, and was inspected by Union Railways Minister.
The first rake comprises 19 coaches including sixteen non-executive and two executive chair cars besides one power coach. The newly-designed coaches are capable of running at a speed of 200 km/h, but due to constraints related to rail tracks these coaches will run at a speed of 160 km/h. The 200 km/hr speed can be achieved providing steel brake disc, sintered pads and electro-pneumatic assist brake system.
Here are all the facilities offered by Tejas Express:
Bio-vacuum toilets (less water consumption and hygienic), water level indicators, touchless water taps, soap dispenser, marble finish anti-graffiti coating, hand dryers
Vinyl-wrapped specially designed exteriors
Automatic entrance plug type doors (provides better sound and heat insulation, can be controlled by guard panel)
Secured gangways (reduce sound levels, dirt, sand, water ingress, increase passenger safety and comfort, energy efficiency, elegant design)
Fire and smoke detection and suppression system and fire suppression system in power car
CCTV cameras for security
Digital destination boards along with integrated braille displays
E-leather as improved upholstery, redesigned backrest with higher height, redesigned armrest and leg support for executive chair car with gas spring
LED TV with touch control for each passenger (with recorded content, can be upgraded to Live TV) and magazines
Local cuisines and celebrity chef menu