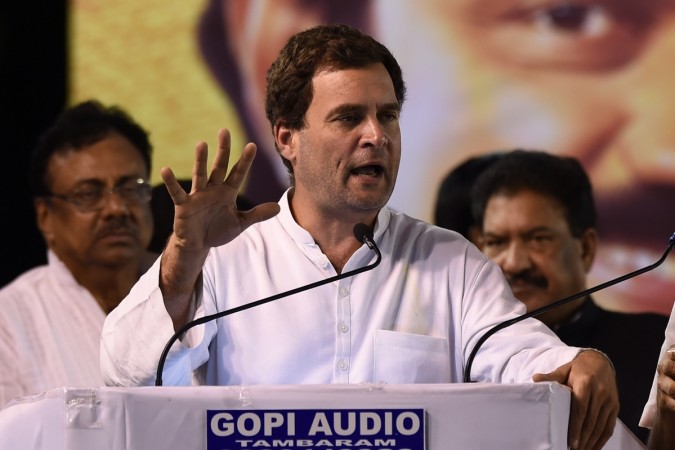 Congress Vice President Rahul Gandhi took a jibe at Prime Minister Narendra Modi's ''unfulfilled" promises on containing price rise made during the 2014 general elections campaign.
Rahul was speaking about the issue of price rise in the Lok Sabha on Thursday and slammed the government for not doing enough to reduce prices of essential commodities.
The Opposition had planned to corner the government over the price rise issue and atrocities against Dalits.
"I want to remind PM Modi about a promise he made to every Indian, and now has forgotten," he said. He pointed out that during the UPA government, the difference between the Minimum Sale Price (MSP) and market price was only Rs 30, but now "there is a difference of Rs 130 in MSP and market price of Toor Dal."
"Where is this Rs 100 going?" he asked.
He accused the government of not speaking about the rise in prices of grains and vegetables. "Narendra Modi can make false claims on Startup India and Make in India, but not on rising prices," he said. "Modi should give a date to this House - when the prices of potatoes, pulses will reduce."
The Congress scion was mocked by ruling party leaders in return for his remark. They said leaders in the government can't empathise with the price rise since they don't buy groceries. BJP leaders counter-questioned him and asked him when was the last time he had purchased groceries himself.
"'There is a new slogan in villages - Arhar Modi, Arhar Modi, Arhar Modi" Rahul said, ending his speech.
Union Finance Minister Arun Jaitley also took a jibe at the Congress VP saying: "Any form of bluster is no substitute for statistics. It is not a question of slogans, but statistics. Seasonal rise in food prices before monsoon is a common issue. Wholesale price index was higher during UPA regime and negative for 18 months after NDA came to power."

"Everyone in this House claims to be going to the market every day," he said.