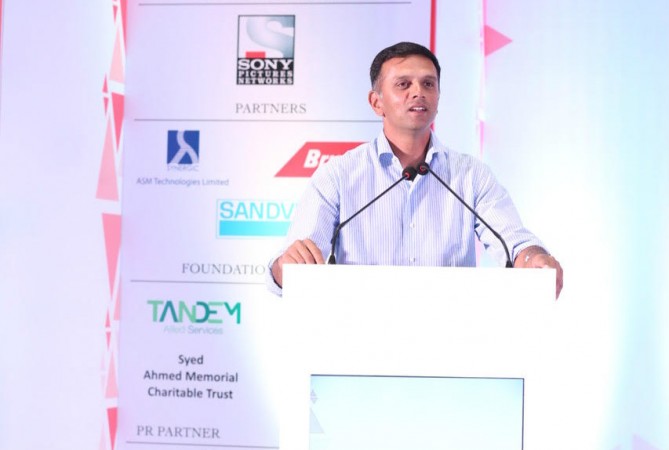 "I am actually quite qualified to speak about failure," Rahul Dravid told a hall filled with sportspersons at the Go Sports Athletes' Conclave in Bangalore on Friday, December 15.
The former Indian captain took the aid of numbers to instantiate his claim. He said: "I played 604 matches for India. I didn't cross fifty 410 out of those 604 times. If you just do the math, I was more a failure than actually, I was a success."
Also read: Dravid reveals he delayed retirement; the reason will make you respect him more
Dravid had informed the audience he would not be offended if he spotted a few dozing off through his lecture. But not many were willing to prefer sleep over a chance to know why the batting great had called himself a failure.
The Bangalorean stressed it was important to "fail well". If you're thinking how can one fail well, here is Dravid's explanation: "When we fail, we often tend to brush things under the carpet. We blame someone, we always tend to find an excuse. When you do things like that, you lose an opportunity to fail well. When you fail, you have an opportunity to understand yourself."
"As sportsmen, we always knew we are bound to fail unless we are a privileged few. We all knew that we have felt the pain of that. But the great people, I have seen have always have found a way to use that positively."
'One ball at a time': Dravid recalls his struggles before 2001 Eden Gardens spectacle
Dravid also shed light on how important it is to focus on the "simplest things" of the sport while going through a bad phase. He revealed how breaking down his sport to the basics helped him during the historic fourth day of the Kolkata Test against Australia in 2001.
Notably, Dravid ended lean patch with a resolute 180, stitching a record 374-run stand with VVS Laxman as India stunned Australia by 171 runs after being asked to follow-on. The Eden Gardens Test is being regarded as game-changer for Indian cricket. It seems the celebrated victory was career-changing for the legend as well.
"I wanted to talk about a little about dealing with pressure. It's something that I learnt on one particular day in my career. It was the 2001 Test match against Australia. We were playing in Calcutta. We had lost very badly in Bombay [in the previous Test] and we were playing this invincible Australian side," Dravid said.
The Steve Waugh sledge
He added: "In the first three days of the Test match, we were sort of completely beaten. Personally as well, my form was not good. I hadn't scored runs in Bombay. I hadn't hit runs in the first innings. In fact, I was demoted to No. 6 in the batting order.
"In the second innings, when I walked in, Steve Waugh said 'Rahul No. 6 in this innings, what is it in the next innings? No. 12?'. It was just his way of sledging me.
"It's part of the history that VVS Laxman and I batted the whole day in Calcutta and we went on to win the Test match. Harbhajan Singh bowled beautifully well on the fifth day and we won the match and in Madras as well.
"But I want to take my mind to the start of the fourth day. It was quite funny because I had reached the depths, I felt so low. I was not in a position to think about the past or about the future.
"I told myself: 'I am struggling so much. So there is no point about worrying about what's going to happen in the future. I was not willing to think whether I was going to be dropped or we were going to lose'.
"I said: 'I am going to just focus on the simplest thing'. And in cricket, it just focusing on one ball at a time. I thought 'let me see how many one balls I can play at a time.' I was thinking 'one more, one more'.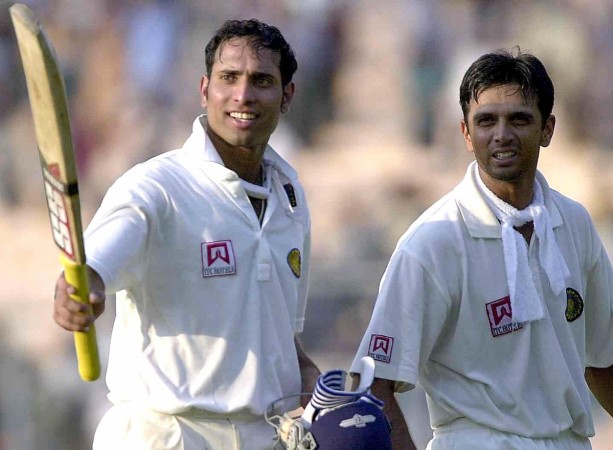 "I couldn't even think about the future or the past. It so happened that I was sort of batting at lunch. I told Laxman as well to keep focusing on one ball at a time. I was as shocked as the Australian team that I had not got out at Lunch.
"I thought 'this is great, this is Lunch and I am not out. This is terrific'. As the day went on, I just kept thinking 'one ball at a time..one ball at a time..'. As I said, I ended up batting the whole day, I scored 180 and we ended up winning the Test match.
"For me it was a really good lesson that day. I needed to get to the depths of how low my performance was to realise that you actually need to focus on the simplest thing that I can possibly control."
Relive the historic stand