Batting great Rahul Dravid became only the fifth Indian after fellow former captains Bishan Singh Bedi, Sunil Gavaskar, Kapil Dev, and Anil Kumble to be inducted into International Cricket Council (ICC) Hall of Fame.
World Cup-winning Australian skipper Ricky Ponting along with England's Claire Taylor was also among the latest (2018) batch of inductees.
The coach of India A and U-19 teams, who had retired from international cricket 2012, was hailed as one of the best modern-day batsmen in Tests as well as ODIs. Regarded as "The Wall", he was a tough nut to crack at the No. 3 spot in the longest format of the game.
Apart from amassing 13,288 runs in 164 Tests with 36 centuries and 10,889 runs in 344 ODIs with 12 centuries, Dravid was known for his versatility. He had regularly kept wickets for his team. A brilliant slip fielder, he holds the world record for most number of catches in Tests.
The 46-year-old clarified that he was unable to attend the ceremony in Dublin on Sunday, July 1 as he is occupied with the India 'A' commitments in England.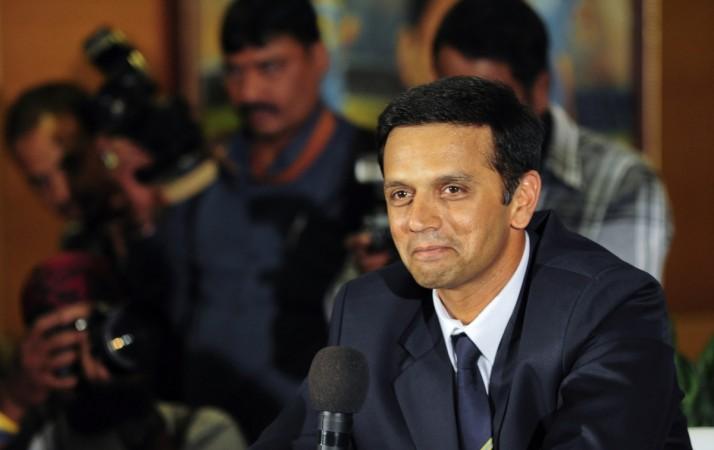 Privilege to be among the group of people who I have admired: Dravid
"It is a great honour and privilege to be inducted into the Hall of Fame. I am thankful to the ICC for giving me this honour. It is a privilege to be among a group of people I have looked up to and I have admired as a young man growing up in my journey as a cricketer," Dravid said in his acceptance speech.
He added: "I'd love to be able to thank so many people who have made it possible for me to have a career in the sport and to fulfil my dreams. My parents, my family, my two kids, my so many friends, colleagues that I have played with, and played against that enriched my game.
"My many coaches right from the time I was in school and the coaches I have played for in India have really helped me to develop my potential. I would not be here if not for the love and support they've given me and I am truly thankful and grateful for it."
"It's a privilege and something that I will hold very dear to my heart," the batting legend added.
After hanging up his boots, Dravid took to coaching and led India U-19 to World Cup glory earlier this year. His work in helping the Asian giants bolster their bench strength is being widely praised across the cricket community.
What is ICC Hall of Fame?
ICC Hall of Fame was launched in 2009 as part of the governing body's centenary year celebrations and it recognises the legends of the game.
A list of 55 members, who were part of Federation of International Cricketers Association (FICA) Hall of Fame that ran between 1999 and 2003, was the first batch of inductees. Five new members — Wasim Akram, Clarrie Grimmett, Herbert Sutcliffe, Victor Trumper and Steve Waugh — were added to the elite list in 2009.
The current members are involved in the selection process to aid the addition of new members, which is done annually.
When were the other Indian cricketers inducted into ICC Hall of Fame?
Bishan Singh Bedi
The left-arm spinner, who was deceptive and accurate, was inducted into the Hall of Fame in 2010. He was part of the initial list of 55 players as well. The cricketer-turned administrator was part of the spin quartet that was considered a force in international cricket during the 60s and the 70s. He had picked up 266 wickets in 67 Tests at a staggering average of 28.71 and seven wickets in 10 ODIs.
Kapil Dev
The man who changed the face of Indian cricket and helped bring a revolution by leading India to their first-ever World Cup glory in 1983 was inducted to the elite list in 2010. Kapil, who represented India in 131 Tests and 225 ODIs, remains the best all-rounder to have played for the Asian giants.
Dev's numbers are a testament to his greatness — 434 wickets and 5248 runs in the longest format of the game and 253 wickets and 3783 runs in ODIs. He was one of the few cricketers during his time who gave importance to fitness, which has become one of the prerequisites for selection these days.
Sunil Gavaskar
The Little Master was inducted in 2012. He played 125 Tests, scoring 10,112 — a world record that was broken later by Sachin Tendulkar. In 108 ODIs, the man who is considered one of the greatest openers of all time amassed 3092 runs.
Known for his sound technique and flamboyance, the Mumbai batsman wooed cricket fans across the globe during his 17-year-long career.
Anil Kumble
Kumble was the most recent inductee from India until Sunday as he had received the honour in 2015. The tall leg-spinner who had impeccable control finished as the third highest wicket-taker with 619 scalps, behind Muttiah Muralitharan and Shane Warne.