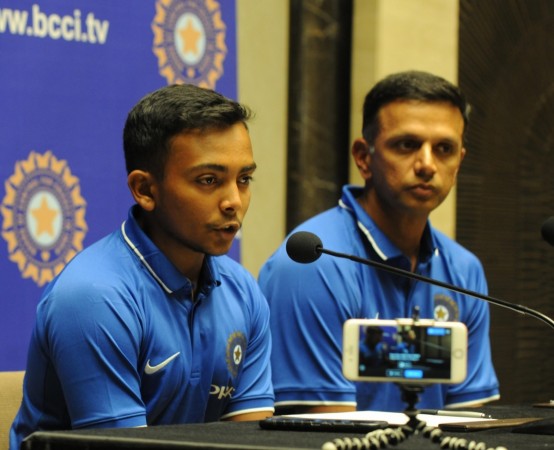 The Board of Control for Cricket in India (BCCI) has made a payment of Rs 2.43 crore to batting legend and India Under-19 coach Rahul Dravid. Under his guidance, the team won the Under-19 World Cup in New Zealand recently.
On its website, BCCI put out the details of payments (above Rs 25 lakh) made to cricketers, coaches, commentators and others in the month of January.
India U-19 team wins World Cup
As per the list, Dravid received Rs 2.43 crore as "Professional fees for the period 01.07.17 to 31.12.17 as per Inv No 035/2017-18". It is for a six-month period.
On February 3, India defeated Australia in the final to lift the U-19 World Cup. For the achievement, BCCI had announced Rs 50 lakh for coach Dravid and Rs 30 lakh each to players. Other members of the support staff will get Rs 20 lakh each.
Recently retired left-arm paceman Ashish Nehra was given a "one time benefit" of Rs 60 lakh by the BCCI. India players Ajinkya Rahane, Hardik Pandya, Wriddhiman Saha and Kuldeep Yadav too received payments.
Details of payments (above Rs 25 lakh) made by BCCI in the month of January 2018
Date
Party Name
CHQ./RTGS Amt.in INR
Particulars
01.01.2018
The Andhra Cricket Association
174,00,000.00
Adv agst amount due to association-Andhra Cricket Association - Hosting Fees of India Vs Srilanka (ODI) at 17th Dec 2017 @ Vishakhapatnam vide Inv no 45 dtd 20th Dec 17
01.01.2018
Zoom Communications Ltd.
13297500.00
2nd 25% for Broadcast Production Services for Domestic Season 2017-18. Inv.No.ZCL/2017-18/068. (BCCI/188/2017)
01.01.2018
Seavalley Resorts Pvt. Ltd. - Novotel Visakhapatnam
42,42,629.00
Stay and food charges for India A and New Zealand A teams and support staff from 04/10 to 16/10. Inv No. 9694, 9695 (BCCI/HQ/23(B)/4115/2017)
01.01.2018
Thomas Cook India Ltd
41,42,988.00
Foreign currency issue to Indian team for South Africa tour and India A for New Zealand tour
01.01.2018
Saurashtra Cricket Association
41,20,320.00
Hosting & Participation Subsidy, Match Fees claim for Saurashtra as per Invoice No 19 dtd 23/11/2017 -BCCI/HQ/49(D)/3982/2017-SCA-U23 Col C K Nayudu Trophy Lg 17-18
01.01.2018
Zoom Communications Ltd.
3931200.00
2nd 50% for providing Broadcast Production Services for Ranji Digital Production 2017. Inv.No.ZCL/2017-18/069. (BCCI/188/2017)
01.01.2018
Alston Elliot India Pvt. Ltd.
3017231.00
Core Graphics services provided for TV Feed Production for Australia Series Sep-Oct 2017. Inv.No.261/17/BCC/I/098. (BCCI/181/2017)
01.01.2018
Paras Mhambrey
27,00,000.00
Prof.Fees from Aug 2017 to Nov 2017
02.01.2018
Yourself for Income Tax
62157634.00
TDS for the month of December 2017
02.01.2018
Maharashtra Cricket Association
7743001.00
Payment of Net GST after deduction of TDS from Invoice no MCA-GST-2017-18-23 raised for Bank Loan repayment of Instalment due.
03.01.2018
Zoom Communications Ltd.
28066500.00
Balance 50% for providing production services for Sri Lanka tour to India. Inv No. ZCL/2017-18/076 (BCCI/190/2017)
03.01.2018
Jharkhand State Cricket Association
3487959.00
Reimbursement of U-19 Vinoo Mankad Trophy League Tournament Inv no JSCA/17-18/011 dtd 3-11-17 BCCI/HQ/49(U)/4143/2017
03.01.2018
M Kartik
3061800.00
Commentary fees for Ind vs SL series 2017-18. Inv No. MK/2017-2018/006 (BCCI/194/2017)
04.01.2018
Yourself for Income Tax
80650470.00
TDS as per TRACES order payment under
protest / without prejudice to Income Tax Authorities
05.01.2018
Rahul Dravid
24300000.00
Professional fees for the period 01.07.17 to 31.12.17 as per Inv No 035/2017-18
05.01.2018
Delhi & District Cricket Association
21412494.00
Reimbursement of Expenses Inv no DDCA/GST/17-18/016 dtd 20-12-17
05.01.2018
Trade Wings Ltd.
12500000.00
Ad hoc advance against invoices
05.01.2018
Assam Power Distribution Company Ltd
5764891.00
Payment of Electricity Dues of Assam Cricket Association
08.01.2018
Yourself for Income Tax
1802,24,419
TDS paid under protest / without prejudice to Income Tax Authorities
08.01.2018
Ashish Nehra
60,00,000.00
One time benefit
09.01.2018
Hardik Pandya
12770884.00
Tour fee, Match fee and Retainership fee (Jul to Sep 17) India tour to Sri Lanka and West Indies as per Inv No 026/17-18 and Letter No BCCI/HQ/47(C-3)/4199/2017
09.01.2018
Wriddhiman Saha
5781991.00
Match fee, Tour fee and Retainership fee (Jul-Sep 17) for India tour to Sri Lanka as per Inv No 7 and Letter No BCCI/HQ/47(C-3)/4220/2017
09.01.2018
Trade Wings Ltd.
2725000.00
50% advance towards India A tour to England in June 2018.
10.01.2018
Gagan Khoda
5400000.00
Professional fees for the period February to November 2017 as per Inv No BCCI-001/17-18 and Letter No BCCI/HQ/47(C-2)/4261/2017
10.01.2018
The Landmark Hotel
2875535.00
Stay charges of Team India, New Zealand team, support staff, match officials and BCCI officials for Ind vs NZ ODI at Kanpur from 26/10 to 30/10. Inv No. 17114371 (BCCI/HQ/23(B)/4170/2017)
11.01.2018
Kerala Cricket Association
194300000.00
Advance agst additional amount due to association - vide Inv no BCCI/2017-18-17 dtd 03-01-2018
12.01.2018
Abhinav Mukund
3369600.00
Match fee, Tour fee and Retainership fee (Jul-Sep17) for India to Sri Lanka as per Inv No 001 and Letter No BCCI/HQ/47(C-3)/4354/2017
16.01.2018
Yourself for GST
229085770.00
GST Payment for the month of December 2017 - BCCI Maharashtra
16.01.2018
Madhya Pradesh Cricket Association
17400000.00
Hosting Fees T20 between India & Srilanka at Indore on 22-12-17Inv no MPCA/2017-18/42 dtd 02-11-18
16.01.2018
Assam Cricket Association
3377062.00
Reimbursement of U-19 Cooch Behar Trophy Group "Ä" Tournament 2016-17 Inv no 004 dtd 3-11-17 BCCI/HQ/49(G)/4376/2017
16.01.2018
Jharkhand State Cricket Association
2828815.00
Reimbursement of Ranji Trophy Group "C" Tournament 2016-17 Inv no JSCA/17-18/007 dtd 3-11-17 BCCI/HQ/49(Q)/4381/2017
16.01.2018
Jharkhand State Cricket Association
2599667.00
Reimbursement of U-19 Women One Day Super League K/O Tournament 2016-17 Inv no JSCA/17-18/018 dtd 3-11-17 BCCI/HQ/51(V)/4337/2017
18.01.2018
Odisha Cricket Association
17400000.00
T20 - India v Srilanka 20.12.2017 - Hosting Fees - against Advance due to AssociationsInv no OCA-2018/1304 dated 11-01-178
18.01.2018
Korn/Ferry International Pvt Ltd
5634091.00
Balance amount for service rendered in conjunction of Director- NCA & GM- Cricket Operation and Out of pocket expenses as per Inv No 369100086,143, 149, 210, 255, 190, 234
18.01.2018
Apeejay Surrendra Park Hotels Ltd. - The Park Kolkata
4464000.00
Stay charges of TV production crew during Ind vs SL test match at Kolkata. Inv No. 10086756 (BCCI/200/2017)
18.01.2018
Trade Wings Ltd.
3477462.00
Cost of air tickets issued to BCCI officials, match officials, anti corruption officials etc. during IPL 2017. Inv No. BCCI-IPL/17/06/225 (IPL/412/2017)
19.01.2018
Ajinkya Rahane
14759890.00
Tour fee, Match fee & Retainership fee (July - Sep 17) for India tour to West Indies and Sri Lanka as per Inv N0 001 and Letter No BCCI/HQ/47(C-3)/83/2018
19.01.2018
Kuldeep Singh Yadav
10826884.00
Tour fee, Match fee & Retainership fee (July - Sep 17) for India tour to West Indies and Sri Lanka as per Inv KY/11/2017 and Letter No BCCI/HQ/47(C-3)/85/2018
23.01.2018
Yourself for Income Tax
1000000000.00
Income tax demand - AY 2013-14 - paid under protest
25.01.2018
Sanjay Vijay Manjrekar
3628800.00
Crew Fee for TV Feed Production during Sri Lanka Series Nov-Dec 2017. (BCCI/210/2017)
30.01.2018
Mithun Manhas
7560000.00
Professional Charges of Mr. Mithun Manhas, Head Coach-JKCA for FY 2015-16 & FY 2016-17
30.01.2018
Goa Cricket Association
5437270.00
Reimbursement of Various Expenses as per list & as per Invoice No GST/JAN/51 dtd 22-01-18
30.01.2018
Delhi & District Cricket Association
4751360.00
Reimbursement of Ranji Trophy B Group Matches 2015-16Inv no DDCA/GST/17-18/017 dtd 01-01-18 BCCI/HQ/49(P)/111/2018
30.01.2018
Sanspareils Greenlands Pvt Ltd
2617843.00
Purchase of Cricket Balls for Various Association as per Letter No BCCI/HQ/24(C)/66/2018