Former MTV Roadies judge Raghu Ram is now engaged to his girlfriend Natalie Di Luccio in Toronto, Canada after officially getting divorced with his former wife Sugandha Garg earlier this year. If reports are to be believed, the newly-engaged couple will get married in December in Goa.
TV actor Karanvir Bohra's wife Teejay Sidhu broke the engagement news when she took to Instagram to congratulate the couple. She also shared a picture with the couple and revealed why they went to Toronto.
"The main reason we were in Toronto - to see two of our dearest friends get engaged. :) Raghu - You have always been one of the people I love most - so sweet, so kind, so intelligent, and so funny (especially at 8am!!) If anyone deserves happiness, it's you and I'm so glad you found it with Natalie. (Aren't Canadians awesome?) ;) You guys are so great together! Biggest hug ever to you, [sic]" Teejay wrote on Instagram.
Raghu Ram had also shared a photo posing with his fiancee Natalie, Teejay and Karanvir.
In March, the former Roadies judge had surprised everyone when he announced his first relationship anniversary with Canadian singer Natalie Di Luccio on social media.
Speaking about his love life, Raghu told Mumbai Mirror, "I forwarded her videos to a few friends. Later, she was in Mumbai and apparently everyone she met asked her to connect with me. When we finally did in 2011, she put up a picture with me on Facebook and everyone warned her against me. We met socially once or twice over the years. I always found her sweet, gentle and graceful. We decided to meet up and we got along really well. One thing led to another and here we are. On March 26 last year, we made it official as a couple, Natalie has really taken me by surprise."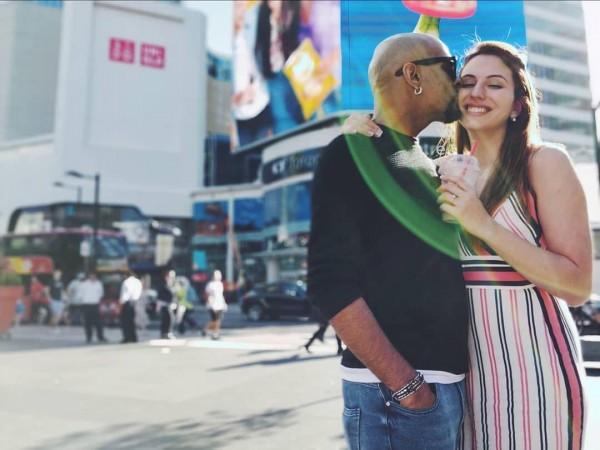 He also revealed that his wife Sugandha was the first one to know about Natalie from him. She said that if she had to pick a girl for him it would be Natalie who was earlier in a relationship with the actor Eijaz Khan.
Raghu and Sugandha, the former couple, had tied the knot in 2006 and had announced their separation after 10 years of married life. They officially got divorced on January 29, 2018. When Raghu and Sugandha announced their divorce, they gave 'divorce goals' to many as their separation was announced in the quirkiest way.