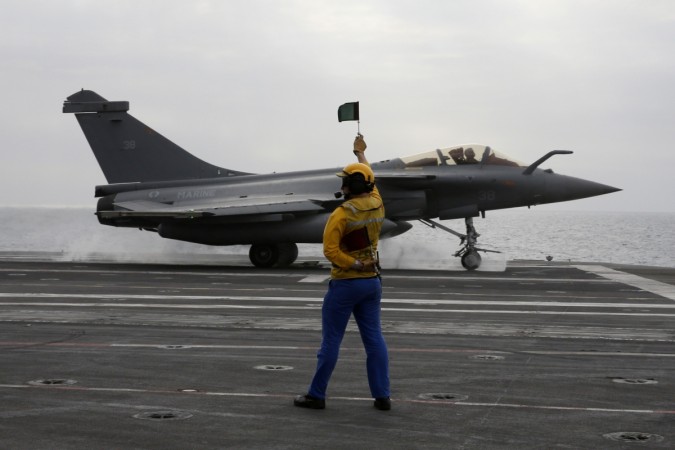 India is inching closer each day to formally conclude the long drawn negotiations for 36 Rafale fighter jet from French aircraft manufacturer, Dassault. The deal for the Rafale jets is likely to be signed on Sept. 23, in the presence of French defence minister, Jean-Yves Le Drian.
The French defence minister is expected to be in New Delhi on Sept. 23, The Hindu quoted official sources as saying on Thursday.
As reported earlier, Indian officials are burning their midnight oil as they finalise the draft for the Inter-Governmental Agreement (IGA). The IGA will include the contractual details regarding the purchase of 36 Rafale jets from France.
Further, the IGA makes room for a possible follow-on order with 10 percent cost escalation, NDTV reported.
The deal is expected to cost 7.87 billion Euros and will be inclusive of the support, repair, maintenance, weapons package and the aircraft. The deal is said to encompass advanced BVRAAM missile, Meteor and Israeli helmet-mounted display.
The government has claimed that due to bargaining and the ensuing 17-month-long negotiations, price of the 36 aircraft jets was brought down by about 600 million Euros.
The current deal has been customised as per Indian Air Force (IAF) requirements.
Dassault, the manufacturer of Rafale has to deliver 50 per cent offsets. Previously, it was revealed that France is likely to invest 1 billion Euros to revive the Kaveri engine project. The French have reportedly offered 16 critical technologies as part of the offset package, which will be shared with Defence Research and Development Organisation (DRDO).
The first deliveries of these advanced fighter aircraft will only start from 2019.