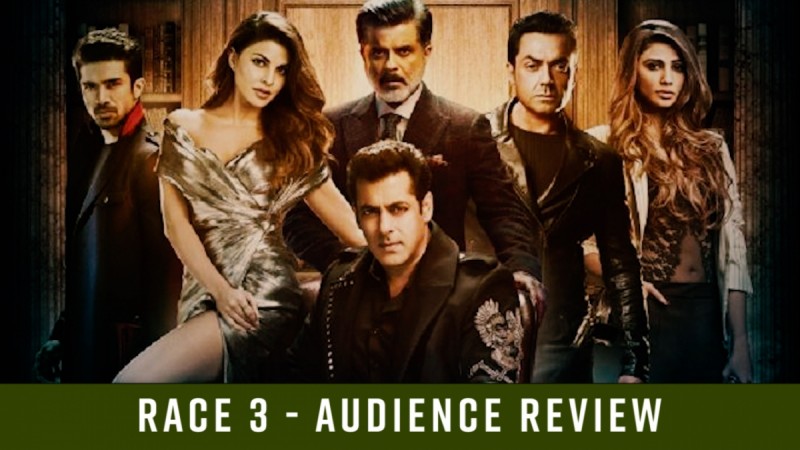 The Remo D'Souza-directorial, Race 3 might have broken several records at the box office in its opening weekend. But it was slammed left, right and centre by critics who called it one of the worst Bollywood films of 2018. Salman Khan's fans too were disappointed with the film's weak storyline, silly dialogues, a lack of suspense and cringe-worthy performances.
The third installment of Race franchise, which stars an ensemble cast of Salman Khan, Bobby Deol, Jacqueline Fernandez, Anil Kapoor, Daisy Shah and Saqib Saleem, failed to live up to the hype, disappointing viewers and critics alike.
While some sections of the audience have already started rejecting the film, an angry fan, Manish Jain, owner of Shot Ok Motion Pictures, tore apart the Salman Khan-starrer. His brutally honest review which will leave you in splits.
Jain penned down his thoughts to express how he felt after watching the action thriller soon after it released in theatres on June 15.
Read the full text of his Race 3 review here:
'My Picture is hamaar Picture... None of tohar business!' - Bhai can finally say that about #Race3.

Sorry #AbbasMastan, for disliking #Race2 so much after an okayish #Racel... Just realised how further a 'DisgRace' can it be, thanks to #RemoDsouza!

So one may wonder how did #Race3 really happen? Since Script ke naam pe paper pe Gau-dung hee hoga (the script is a pile of cow dung)... It must have been that bad that even Abbas Mastan disliked it!! Like there's a low and then there is Race3!!

So anyways, the film is abt a weird family of some weird people with weird background stories and even worse, weirdly fluctuating dialects... So it comprises of a 'sleepwalking in the name of acting' #SalmanKhan; A weird set of Twins #SaqeebSalim and #DaisyShah, who finally gets the right male role for her after so many films, a 'Bro' one literally! ; Father #AnilKapoor who suffers from multiple personality disorder as he seems to speak a different language in every scene depending on his mood; and #BobbyDeol who is just happy to be in any film currently... And then arrives #JaquelineFernandes, whose character changes every 15 minutes from a con girl hired by x, to actually been hired by y, to actually been working for z, to actually finally reveal that she is none of them, but just a 'paper basket' in glamorous clothes who can dance!

And then there is one action sequence after another just to make sure more & more money gets spent in one form or the other! And there are Cars blowing up one after the other; and flying Choppers acting better than most cast members; Beech beech mein Songs also appear out of nowhere just in case it wasn't already bad enough, with entire family dancing together in multiple songs (Fairly close to 'Suraj Barjatya' types!), even when they are angry on each other; And more unintentionally funny sequences like those hilarious jumpsuit flying seqs of Salman, and just in case if u did not laugh enough the last time, he does it again with Jaqueline!

So anyways, Bhai ki picture hai toh aise bhi Script ki ya Logic ki value gobar hee hoti hai (when it's a Salman Khan movie, the value of the script and logic will anyway be c**p), but its still a 'Happiness' spreading film (Yes, like Rajshri family dramas)... Somewhere Abbas Mastan and Saif All Khan must be happy that they are not a part of this bullc**p of a film, while Bhai must be happy that this c**p still opened to almost 25-30 Cr Day 1!

UPA 1 under Manmohan Singh was okayish... UPA 2 under MMS was bad... Then Modiji happened, and this 3rd term was so horrendous that suddenly we realised the value of MMS... Thats the summary of RACE 1, 2 & now 3!!

Once I saw the kind of business that #Race3 is doing, my feelings are summarised in the very popular cult Barjatya song: 'Yeh Toh Sach Hai Ki Bhagwaan Hai!' :)