Ace Hollywood director Quentin Tarantino, who is known for his longtime association with scandal-hit Hollywood producer Harvey Weinstein, has finally acknowledged the ongoing scandal in a recent interview with The New York Times.
"I knew enough to do more than I did," Tarantino told The New York Times in a story published Thursday. "There was more to it than just the normal rumours, the normal gossip. It wasn't secondhand. I knew he did a couple of these things."
Also read: Riverdale's Lili Reinhart on her sexual harassment story: That was a scene right out of a horror movie
"I wish I had taken responsibility for what I heard," he added. "If I had done the work I should have done then, I would have had to not work with him."
In the past few weeks, more than 50 actresses and models came forward to share their sexual harassment stories against the Hollywood horndog. Besides that, former employees of the Hollywood mogul, his Cannes chauffeur, hotel staffs have brought up all the ugly truths about Weinstein.
The Pulp Fiction director has admitted that he had been aware of a few allegations against Harvey Weinstein and wished that he should have taken a stronger stand against him.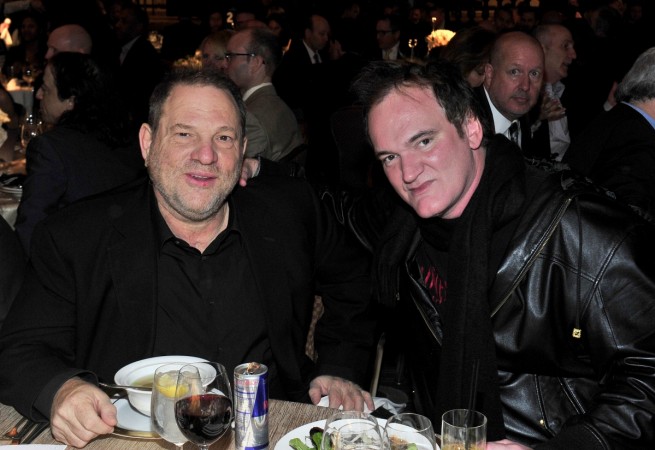 In his interview with the US daily, the 54-year-old director confessed that he also knew the harrowing details of sexual misconduct faced by his former girlfriend Mira Sorvino, who recently spoke out against the producer in a report by The New Yorker this month.
Mira told The New Yorker that Weinstein had allegedly chased her around a hotel room, showed up at her apartment in the middle of the night and tried to force massages on her.
Tarantino said he was shocked and appalled when he heard of the case and thought it was an isolated incident.
"I couldn't believe he would do that so openly. I was like: 'Really? Really?' But the thing I thought then, at the time, was that he was particularly hung up on Mira."
"She had won accolades for her performance in Mighty Aphrodite, and I thought Harvey was hung up on her in this Svengali kind of way. Because he was infatuated with her, he horribly crossed the line."
"I chalked it up to a '50s-'60s era image of a boss chasing a secretary around the desk," he told the Times. "As if that's O.K. That's the egg on my face right now."
He remained quiet because he assumed that Harvey would not repeat it since he was dating Sorvino. "I'm with her, he knows that, he won't mess with her, he knows that she's my girlfriend," he said.
Even later he did not confront the disgraced Hollywood producer when he heard more similar stores including the Rose McGowan one. "What I did was marginalize the incidents," he recalled. "Anything I say now will sound like a crappy excuse."
In the long-going interaction, Tarantino apologised for his behaviour while urging the Hollywood community to take such stories more seriously.
He also explained that Hollywood has been "operating under an almost Jim Crow-like system that us males have almost tolerated. We allowed it to exist because that's the way it was."
He also asked men in Hollywood to take prominent action: "Don't just give out statements. Acknowledge that there was something rotten in Denmark. Vow to do better by our sisters."
Tarantino directed some of his career's path-breaking films including The Pulp Fiction, Kill Bill, Reservoir Dogs, Inglourious Basterds in association with The Weinstein Company.