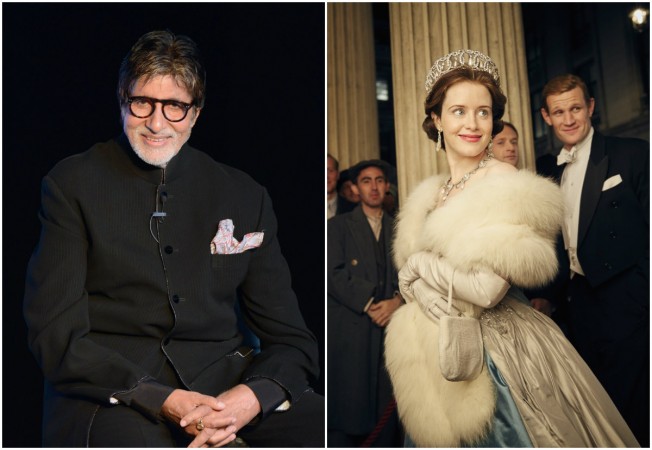 Like Queen Elizabeth II, Bollywood superstar Amitabh Bachchan has also watched Netflix's royal drama series The Crown — the life of Queen Elizabeth II — and penned down his feeling in the recent blog.
Taking to Tumblr, the 75-year-old actor expressed how watching a serial will have you imbibed into the nature of the characters.
Big B wrote: "Have you noticed .. the moment you start watching a teleserial you begin to automatically imbibe the nature of the characters in them .. its quite odd .. and suddenly the family turns around and looks at you with some questioning and asks: Are you alright?"
He went on, "I mean of course we are alright .. but the effect of the characters in the serial are not .. they remain somehow and we find ourselves reliving them in our daily lives .."
Also read: Karan Johar's admits his 'Big' mistake, apologises to megastar Amitabh Bachchan on Twitter [VIDEO]
The Bollywood megastar also added how he admires the effort Netflix took to bring the authenticity of the era in the show.
He further added: "Been watching The Crown lately and inadvertently I find myself becoming a character in the times of Queen Elizabeth, and Royalty and the events of those years .. we become a bit regal too in our demeanour .. hehehahaha ..!!
"But no you cannot but admire the amount of effort taken to present some of the works of these serials .. in its authenticity, in its content and in the reality of events they cover or talk about .. with great frankness and honesty. [sic]"
The Crown, a Netflix original series, tells the inside story of Queen Elizabeth II's reign, as the fragile social order established after the Second World War breaks apart.
Based on the award-winning play, The Audience, the second season revolves around the revolutionary era of the 1960s while the soldiers in Her Majesty's Armed Forces fighting an illegal war in Egypt, the downfall of her third Prime Minister, Harold Macmillan after a devastating Profumo scandal, everything have been brought in the second season.
The Crown continues to chronicle the major political and global events that have defined and shaped the second half of the twentieth century - a series that is unprecedented in its scale, ambition and creative vision.
You can watch The Crown on Netflix.