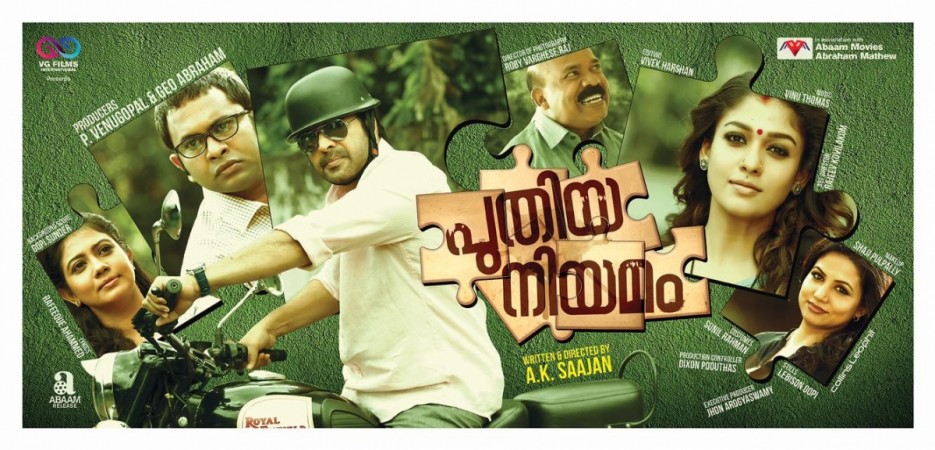 The trailer of Mammootty's upcoming movie "Puthiya Niyamam," which was released on Wednesday, Feb. 10, has opened to tremendous response from movie-goers. Even though the makers had earlier announced that the movie will be released without any official trailer, the trailer was released on Wednesday evening after the technical issues were resolved.
Read: Puthiya Niyamam IBTimes India Review
Considering the 2-minute-11-second-long trailer, the AK Sajan directorial looks promising and the audience can expect a never-seen-before mysterious thriller with many suspense elements. Mammootty portrays the role of an advocate named Louis Pothen and Nayantara is seen as his wife Vasuki Iyer, a Kathakali artist who seems to be hiding many things.
Read: Puthiya Niyamam Audience Review
A few days ago, the makers had released the first teaser of "Puthiya Niyamam" and the audience were under the impression that the Mammootty starrer would be a comedy entertainer, but the movie's trailer surprised many as it looked totally different from its teaser. Soon after the trailer release, "Puthiya Niyamam" also became one of the most trending topics on Facebook.
Watch Puthiya Niyamam Trailer and Teaser
Celebrities like actor Vineeth Sreenivasan, scriptwriter Arunlal Ramachandran, director Roopesh Peethambaran and Bartosz Czarnotta -- a fan of Malayalam movies from Poland -- have said "Puthiya Niyamam" looks promising after its trailer release.
Read: 5 Reasons to watch "Puthiya Niyamam"
"Puthiya Niyamam," which also has Nayantara, Sheelu Abraham, Rachana Narayanankutty and Aju Varghese in the main roles, has become one of the much-awaited Malayalam movies of the year. Produced by P Venugopal and Geo Abraham, the Mammootty-Nayantara starrer is scheduled to have a solo release on Friday, Feb. 12, all over India.
Check out celebrity reviews on "Puthiya Niyamam" trailer below:
Vineeth Sreenivasan
Roby, all the best dear brother. trailer looks awesome.. waiting to watch..
Arunlal Ramachandran
All the best A K Sajan sir ...All the best team Puthya niyamam
Bartosz Czarnotta
Few reflections after watching Puthiya Niyamam trailer:

Story seems to be intriguing. I feel there are a lot of promising suspense elements. And i hope narration will be enough smart to provide valuabe, unusual thriller. Megastar looks great, especially around the end. On the same time he seems to be convincing in role of casual husband and father. His doubts, fears and dillemas are another noted worthy factors. Nayanthara looks wonderful. Her extraordinary charm and elegancy is worth of high praises. Her character seems to be complicated and a bit controversial. I feel we can expect a some tiny, well crafted comedy elements. And, i hope, good thriller will provide a some funny reasons to laugh too. Music sounds melodious in parts. In other seems to worked well with thrilling story. Overall, trailer looks far better than teaser. It give us great hope about this long-awaited, highly anticipated movie.
Roopesh Peethambaran

All the best Mamooka and Roby Raj!
Trailer looks super promising!!
Roby Kuttaa - I am sure you will set new standards in cinematography!!
God Bless