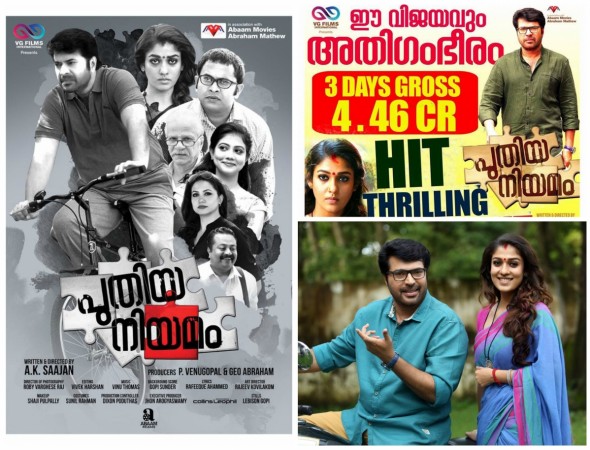 Director AK Sajan's latest Malayalam movie "Puthiya Niyamam" has been garnering tremendous response from movie-goers in India and abroad ever since it was released on Feb. 12. The movie, starring Mammootty and Nayantara, is all set to become the next blockbuster in Mollywood.
In three days of its release, "Puthiya Niyamam" has collected a gross amount of Rs 4.46 crore from Kerala alone as revealed by the makers. "‎PuthiyaNiyamam‬ 3rd Day ‪#‎BoxOffice‬ !! After Raining Housefull Shows On the Thrid Day ✌✌ 3rd Day Gross :: 1.65 Cr (Kerala) Total Gross :: 4.46 Cr (Kerala)," reads a post on the official Facebook page of the movie. ‪
Check Puthiya Niyamam 5 days collection report
The family thriller is said to have collected an approximate gross amount of Rs 1.23 crore and Rs 1.58 crore on the first two days in Kerala.
While Mammootty plays the role of Adv Louis Pothen, Nayantara is seen as his wife Vasuki Iyer, who is also a Kathakali artist. The movie deals with some serious problems women face these days and has successfully delivered a good message to our society. The natural performance of all the artists is the major highlight of the intense crime thriller. Nayantara's performance in the flick is said to be her best till now and fans have already started calling her the "lady superstar" of the industry.
Also Read: Puthiya Niyamam Celebrity Review
"Puthiya Niyamam" marks the comeback of Nayantara and Mammootty after their hit film "Bhaskar the Rascal" in 2015. The AK Sajan directorial also has Baby Ananya, Sheelu Abraham, Rachana Narayanankutty and SN Swamy in pivotal roles as well as Aju Varghese and Kottayam Pradeep in cameo roles.
[1 lakh = 100,000 | 1 crore = 10 million | 100 crore = 1 billion]