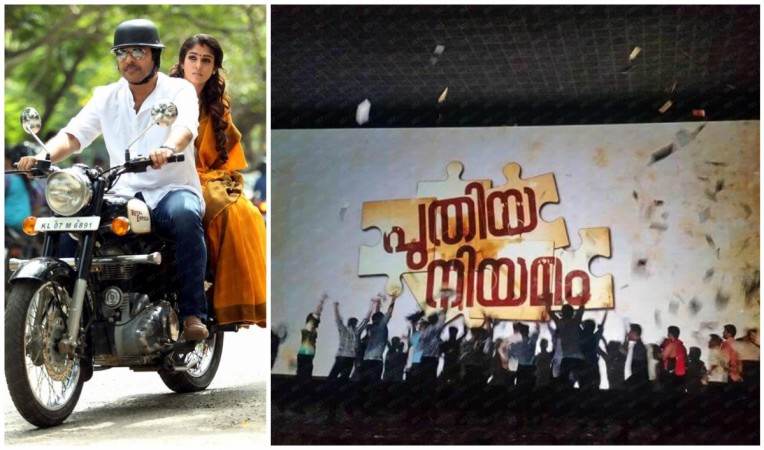 Megastar Mammootty's latest Malayalam movie "Puthiya Niyamam" has been garnering rave reviews from movie-goers, making it the first superhit film of the actor in 2016. The performance of Nayantara in the AK Sajan directorial has already made her the lady superstar of the industry.
The movie, released throughout India on Feb. 12, has minted a gross amount of approximately Rs 4.35 crore (net 3.47 crore) within four days of its theatrical run in Kerala alone. The movie had collected about Rs 1.23 crore, Rs 1.58 crore and Rs 1.65 crore, respectively, on the first three days in Kerala. The box office figures from outside Kerala and overseas are yet to be revealed.
Read Puthiya Niyamam IBTimes India review
In "Puthiya Niyamam," Mammootty plays the role of Adv Louis Pothen, who is married to a Kathakali artiste Vasuki Iyer (Nayantara). The crime thriller deals with some main issues faced by women in the society and is thrilling like Mohanlal's blockbuster movie "Drishyam."
The movie also features Sheelu Abraham, Rachana Narayanankutty and SN Swamy in significant roles and Aju Varghese, Kottayam Pradeep in cameo roles. Produced by P Venugopal and Geo Abraham, the Mammootty-Nayantara starrer is expected to make tremendous business in the coming days as well.
Apart from fans and other movie-goers, some celebrities have also lauded the makers and actors for coming up with an impressive crime thriller. Check out celebrity responses below:
Aaryan Krishna Menon
Movie Puthiya Niyamam!! A fabulous family crime thriller! Really like the way it is placed cinematically. Mammookka nailed it with ease. Nayanthara is absolutely fabulous in her stunning looks and performance. Cinematography by Roby raj is really commendable... he is excellent in his maiden work. Super Sharp edit by Vivek Harshan. A K Sajan sir's brilliance is evident in the script and it makes us forget small directorial flaws if any. So friends, don't miss this thriller. Hello box office, here is our mammookka for you Congrats A K Sajan sir, Nayanthara, Aju Varghese, Rachana Narayanankutty, Sohan Seenulal, S. N. Swamy, Sheelu Abraham, Pradeep Kottayam, Roby Raj, Vivek Harshan, Gopi Sunder
Sreedhar Pillai‏
#PuthiyaNiyamam 3.25/5. Exciting and entertaining psychological revenge drama set against family background.Writer-Director AK Sajan neat job/ #Nayanthara simply magnificent essays pivotal role with élan. Fits in as Vasuki, the housewife with consummate ease. @mammukka perfect foil and simply terrific in the climax. He pokes fun at his own larger than life image. 1st half drags 2 establish family mood, but last 15 minutes is awesome, twists & turns give U a #Drishyam feel.
[1 lakh = 100,000 | 1 crore = 10 million | 100 crore = 1 billion]