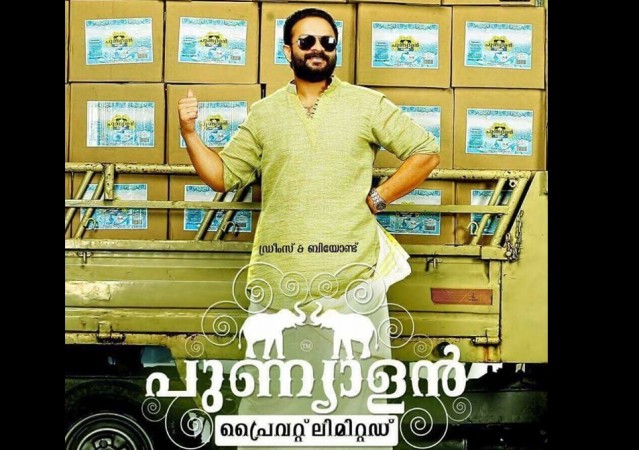 After the success of Malayalam movie Punyalan Agarbathis, actor Jayasurya and director Ranjith Sankar are back with a bang with its sequel, Punyalan Private Limited.
Read Punyalan Private Limited review
The comedy entertainer has been garnering a stupendous response from the viewers since its grand release on November 17, all thanks to the socially relevant issues discussed in the movie that people can easily connect to.
From criticising demonetisation, GST, National Anthem controversy to women safety, Jayasurya's character Joy Thakkolkaran is the collective representation of our society speaking matters that each one of us always wanted to.
Check Punyalan 2 box office collection
Apart from the fans of the young actor, many celebrities have also spoken positively about Punyalan Private Limited, which is being called as one of the best movies in 2017 which discussed serious matters in a humorous way.
Celebrities like Navya Nair, Saiju Govind Kurup, Arun Gopy, Sreejaya Nair, Govind Padmasoorya and many others have already posted their opinion about Ranjith movie on social media.
Also read: Punyalan Private Limited review by audience
Meanwhile, the sequel has been making a decent performance by earning approximately Rs 5.46 crore during the first weekend alone. The movie is expected to become one of the biggest grossers of Jayasurya considering the good word-of-mouth publicity it is getting from the audience.
Check out celebrity reactions on Punyalan Private Limited here:
Navya Nair
Watched punyalan Pvt Ltd ... nice film ... serious contemporary issues are narrated in a humorous way ... the film would hav been banned or chopped if made in any other language ... well done #ranjithsankar #jayasurya
Saiju Govinda Kurup
Started with Ranjith Sankar's PUNYAALAN PVT LTD...superb entertainer with social relevance...Joy Thaakolkaaran alias Jayasurya Jayan is a treat to watch alongwith Thuthuru,Jimbrootan and Shakthan
Kavya Suresh
After the super hit punyalan Agarbathis , the team is back with its sequel Punyalan Private Limited . Jayasurya Jayan as Joy Thakkolkaran has done an amazing job . The character brings out so much of positiveness . The movie is not only a fun ride but also speaks about a lot of social issues which usually we citizens fail to speak !!! Ranjith Sankar Sir has beautifully narrated it without missing the essence from the first part . Sreejith Ravi chettan, my personal favourite in the movie ?? . All the very best team !!!! Looking forward for much more amazing movies ??
Sreejaya Nair
https://www.youtube.com/watch?v=PNWxW-QGbmM
I had the pleasure of watching Punyalan Pvt. Ltd yesterday and must say that Jayasurya, Ranjith Sankar and team has done a wonderful job. It's a complete family entertainer with a strong social message. It is a must watch for every family. DO NOT MISS!!!
Govind Padmasoorya
Making a sequel to a successful franchise is always a great challenge and Punyalan Private Limited live upto it very smartly! It is an intelligent film which is equally engaging and entertaining. The best part of the film is that you not only fall in love with the hero but also with every character including the anti heroes!
-