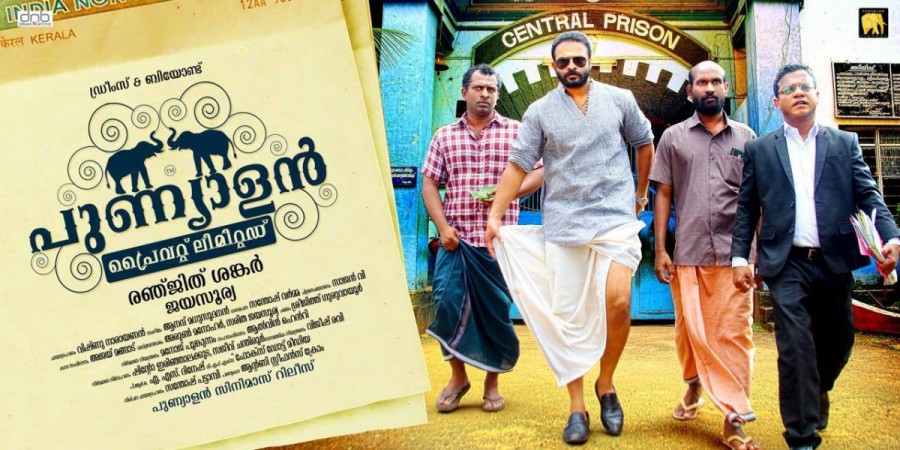 An ambitious entrepreneur from Thirssur in central Kerala, Joy Thakkolkaran dreams of becoming an Ambani some day. He's innovative too. He succesfully marketed Punyalan Agarbathis — fragrance sticks made of elephant dung. Now, he's back in theatres with a new product from Punyalan Private Limited — this time it's a tetra packaged drinking water made of elephant urine!
The political nuances of Punayalan Private Limited, a hilarious comedy directed by Ranjith Sankar, is hard to ignore, though the film do not fall under the category of political satire.
The film is about Joy (Jayasurya) and his roller-coaster life. But the frequent ups and downs do not discourage him, instead he gets motivated whenever failure tries to mow him down.
Read: Punyalan Private Limited review by audience
In the film, Joy is trying his luck selling the latest from Punyalan Private Limited. Though it sounds crass, he launches his brand of tetra packaged drinking water made of the animal urine. He has convincing explanations to prove that it is indeed a healthy product.
But his business gets embroiled in a slew of issues. Though troubles are part and parcel of his life, this time Joy lands in jail and spends a few days there while fighting against the system and government.
Sharp and political digs
(possible spoilers ahead)
It is not just a sweeping take on the system in place as we have seen in many films in the past. The makers of the film also dare to criticise recent political developments and problems faced by people in the wake of drastic changes in policy. Digs at GST, demonetisation and compulsory Aadhar linking comes up in no uncertain terms, with an infusion of subtle humour though, which renders the criticism more teeth. It says what many of us wanted to shout at our politicians and authorities.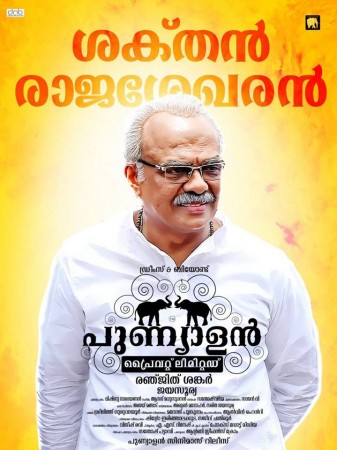 While protesting against the system, Joy gets an offer that he couldn't refuse — a day to spend with the Kerala CM and an opportunity to grab media attention that helps him to prove his point and promote his product — Punyalan Water.
Joy questions why ministers disobey the rules and regulations that millions of people are forced to follow despite being "our slaves who are obliged to serve us."
Do they pay tolls? Is there any speed limit for their vehicles in highways? And yes, how many of them prefer "well equipped" government hospitals when they fall ill?
Joy is also heard taking dig at the clamour for beef ban and the policy initiatives rolled out by the NDA government at the Centre, including demonetisation.
The film also doesn't spare the National Anthem controversy. Joy's comments on forcing people to stand up for the anthem in theatres, are getting loud applause in cinemas.
At one point, a union minister, who is a woman, gets trolled for taking all the credits for herself for rescuing hostages from abroad. Well, the reference is hardly vague.
Joy also tries to entertain us with the "famous dialogues" of Sheela Kannanthanam, but it never sounded that he was teasing the wife of union minister Alphons Kannanthanam.
Punyalan Private Limited discusses many socially relevant topics in one go, but never fails to entertain us. It also shows the power of social media, which acts as a medium for many people, especially youngsters, to react to every social problem at hand. Kudos to Ranjith Sankar and team for incorporating them in the movie. And it did not feel like these issues were desperately crammed into the script as it blends well with the theme.
Performance
The versatile actor Jayasurya keeps us engaged throughout with his good screen presence and comedy and serious dialogues. Aju Varghese as Greenu doesn't get much space to perform as he is only seen through video calls.
Though Sreejith Ravi's Abhay Kumar had a good start, somewhere towards the end his character looked boring. Jubruttan, Dharmajan Bolgatty as Peer Thaneesh, Guinness Pakru, Sunil Sukhada, Ponnamma Babu have also performed decently and making us laugh.
After Jayasurya, it is Vijayaraghavan who has delivered a notable performance in the movie as a smart and cunning politician. However, Nyla Usha and Rachana Narayanankutty were missed in the sequel.
Final verdict
Given the current political scenario and the recent controversies, one wonders how it got passed the test of scrutiny. Maybe, Punyalan Private Limited was released in theatres only because it was made in Malayalam. Otherwise, it would have sparked controversy. Just a few weeks ago, we saw how a section of people protested over the mention of GST in Vijay's Tamil movie Mersal.
Unlike many other sequels, Punyalan Private Limited has done justice to its prequel Punyalan Agarbathis. The Jayasurya-starrer is watchable if you are willing to accept a storyline that is heavy with social problems. But you won't feel the burden, I promise, because you could very well connect with it and it's presented with a good sprinkling of humour.
IBTimes India rating: 3/5