While consumers are already feeling the pinch of the farmer protests with prices of essentials, such as vegetables, sky-rocketing, it looks like farmers too aren't really happy with the strike. Farmers in Punjab have decided to end the 10-day strike on Wednesday, June 6, which is four days earlier than scheduled.
The decision was announced at a press conference in Ludhiana late on Monday, June 4, after four farmer organisations in the state agreed on the withdrawal.
Bhartiya Kisan Union president Balbir Singh Rajewal said that farmers would start supplying milk, fruits, and vegetables Wednesday, June 6 onwards "but the stir would continue in other states till June 10," reported the Press Trust of India.
Before the announcement was made, a few commercial dairy farmers had also said that they would resume the services as their losses had been mounting. Daljit Singh, president of the Punjab Dairy Farmers' Association had pegged these losses at about Rs 2-2.5 crore since June 1.
A few places in Punjab also witnessed some violence after farmer organisation and traders clashed over the strike. The traders had said that they wanted to call of the strike due to losses but were being forced by these organisations to carry on with the protest.
Since the protests, vegetable prices have reportedly seen a jump of at least 10 percent. "Wholesale prices of some vegetables like tomatoes and french beans have risen due to lower supplies," Reuters quoted Mumbai-based vegetable vendor Mahesh Gupta as saying.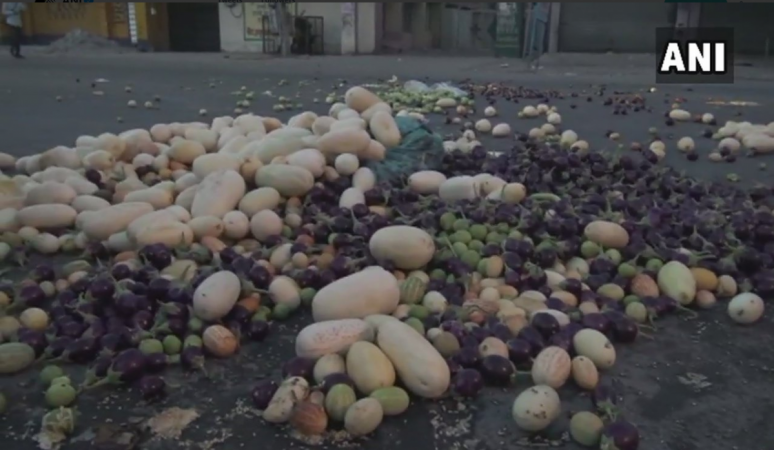 Speaking of the strike, Ramandeep Singh Mann, a farmer based in Punjab, added: "We are distributing milk and vegetables to the poor and needy, but we've decided not sell. The basic idea is to highlight the plight of farmers who have been overlooked by the government."
Farmers across eight states in India began the "Gaon Bandh" (village shutdown) and went gone on a 10-day strike on June 1. The strike was coordinated by the Rashtriya Kisan Mahasangh (RKM) with local partners and the farmers in these states -- Maharashtra, Madhya Pradesh, Rajasthan, Uttar Pradesh, Punjab, Haryana, Karnataka and Chhattisgarh – had joined the protest.
The farmers are demanding loan waivers, land reforms and free power supply for pumps, and had said that the strike will continue until these concerns are addressed.