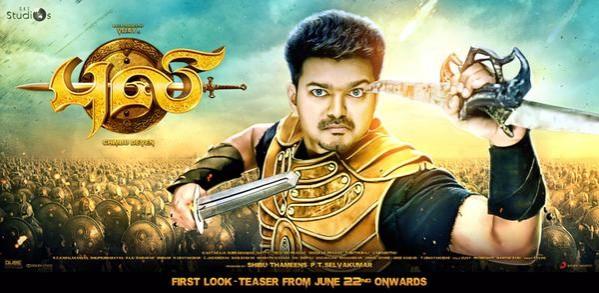 Vijay's "Puli" is a target of systematic leaks, it seems.
Just a day after the trailer was leaked, here comes another one. Some people have alleged released the story, which is now being circulated on Whatsapp.
Amid the hype generated by the release of the trailer that resulted in 1 million views on YouTube within 12 hours, the movie's story is now doing the rounds.
Written by Chimbu Deven, "Puli" is an action-adventure fantasy film and the makers have been guarding its story and details of all the characters fiercely. But now, the leak claims to reveal everything.
Here goes the story that is being circulated on Whatsapp.
The film begins with an ancient period. Vijay is born in a poor family and mistakenly replaced with a rich businessman's child during a fight in the region. He gets good education and acquires skills in all kinds of fighting. He falls in love with Nandita, who is kidnapped by some criminals. But she dies when Vijay, in a bid to rescue her from the kidnappers, inadvertently kills her.
Photos: Puli Stills | Vijay's Birthday Posters
Pained about the incident, Vijay plans to commit suicide by jumping from a mountain, but when he opens his eyes, he realises that he is in a palace without even a single fracture or bruise on his body. He learns that when he tried to commit suicide, he fell in front of the prince of the area (Kicha Sudeep), who takes him to his palace. (The reason why Vijay do not get any fracture is not clear).
Sridevi and Hansika are Sudeep's mother and sister, respectively. Vijay fights for Sudeep's kingdom and wins many wars. Everyone in the palace is impressed with Vijay's talent. Soon Hansika falls in love with Vijay, but the latter does not like her. Sudeep is jealous of Vijay's increasing popularity and he kills him.
Sridevi has some magical powers; she has a pen through which she can travel to any period, but the problem is she cannot travel back into the present. After Sudeep kills Vijay, she places her hand on the latter's head and realises that Vijay is her real son, not Sudeep.
The subsequent twists and turns in the story are baffling, even to those who are used to watching such movies.
The second hafl of the movie is all about reincarnation of Vijay as a dwarf in a modern era.