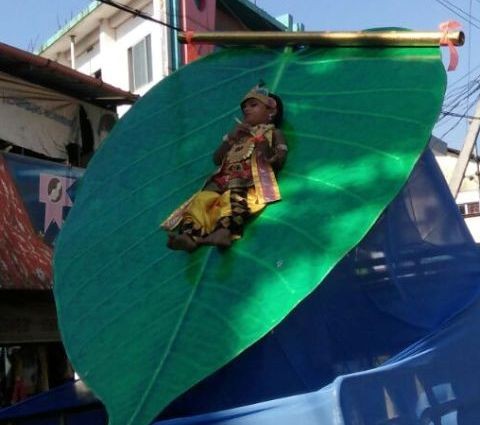 A photo of a three-year-old kid who was allegedly tied to an artificial peepal leaf for nearly two and half hours during the Janmashtami celebrations in Kerala has sparked a controversy, prompting the child rights bodies to take action.
Krishna Janmashtami 2016: Schools across the country celebrate festival as children take Lord Krishna's avatar [PHOTOS]
The little Krishna was strapped on to artificial leaf which was mounted on a moving vehicle. The tableau was a part of sobhayatra, a colourful procession, held at Payyanur in Kannur district of Kerala in connection with the celebrations.
Though parades and processions with children dressed up as Lord Krishna are common during the birthday celebrations of the Hindu god, this incident has not gone down well with the public and the authorities.
The photo, posted on Facebook by Sreekant Usha Prabhakaran, a resident from Payyannur, has gone viral.
"I saw this little kid dressed up as Krishna and he was tied to an artificial peepal leaf for hours atop a vehicle during the procession organized by Vivekananda Seva Samiti," Prabhakaran said in his post.
Prabhakaran also claimed that he immediately reported the incident to the Child welfare authorities but they pay any heed to his complaint.
"Initially I thought that it was a statue but then I saw the child shaking his head to avoid sunlight. I called up Childline immediately to convey the information but the response was rather cold. The person who picked up the phone said Childline has informed authorities concerned. I didn't pursue the case as I realized that there was no point in doing so as authorities did not bother to do anything. The I posted the photograph on Facebook with my comments," he explained.
Meanwhile, the child welfare authorities have rubbished Prabhakaran's allegations saying that they had swung into action immediately after the complaint.
"As soon as we received the call, we enquired about the incident and found that the child was safe. If at all he was harmed or if there was anything that would hurt him, we would have halted the procession," Amrutha KP, coordinator of Childline in Payyannur was quoted as saying to the Times of India.
Amrutha also states that their child rights body had addressed Peabhakaran in a pleasant manner as against his claim of getting a cold response.
However, the Kerala State Commission for Protection of Child Rights has asked the home secretary, DGP, collector and district police chief to give an explanation within two weeks, said a local news website.
The Kerala State Commission for Protection of Child Rights chairperson Shobha Koshy has said that the commission had issued recommendations on how children should participate in processions well in advance. The child rights body has registered a suo motu case.