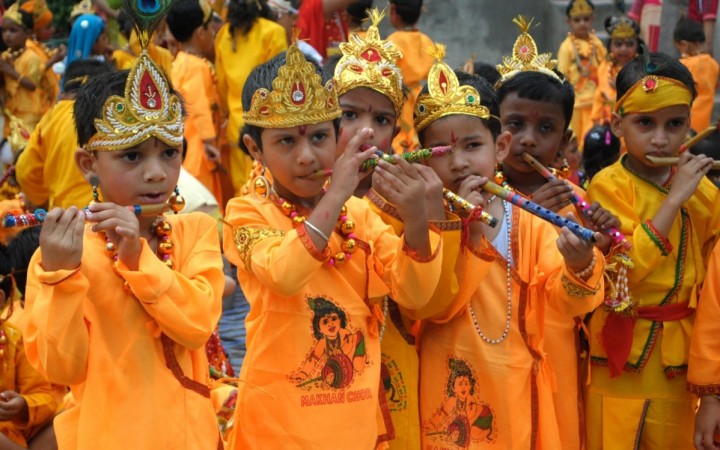 Krishna Janmashtami is the annual celebration of the birth of Lord Krishna, who was the eighth avatar of Lord Vishnu. The festival is also known as Krishnashtami, Saatam Aatham, Gokulashtami, Ashtami Rohini, Srikrishna Jayanti or Sree Jayanti.
Janmashtami is celebrated every year on the eighth day (Ashtami) of the Krishna Paksha (dark fortnight) in the Shravana (August–September) month, according to the Hindu calendar. People stay up at night fasting and perform special prayers at midnight since that was the time Krishna was believed to have been born.
Rasa Lila is performed across India, especially Mathura and Vrindavan, which is considered the birthplace of Krishna. Rasa Lila is the dramatic enactment of Krishna's life. Every year, performances re-create the flirtatious side of Krishna in his youth.
The traditional Dahi Handi is also held across India and celebrates Krishna's playful and mischievous side. Teams of young men form human towers to reach a pot of curd tied to a rope and hung at a particular height and break it.
Janmashtami is followed by Nandotsav, a festival that celebrates the occasion when Nanda Baba distributed gifts to the community in honour of Krishna's birth.
Several schools organise different kinds of events like puppet shows, fancy dress competitions and drama on the deity's life. Children dress up as Krishna and perform plays and skits.
Many schools also arrange for the Dahi Handi festival for students to form human pyramids and break the pot of curd.
"We have been celebrating Dahi Handi in an extravagant way every year. The Supreme Court order made us improvise on our celebrations. Our students will huddle together to form the base of pyramids and the pot will hang low giving them all a chance to hit it," Meenakshi Iyer, principal of Sri Ma Vidyalaya in Mumbai, was quoted by the Times of India as saying, adding that a cultural celebration along with a fancy dress, puppet show and drama will also be held.
Students of special schools will also be celebrating the festival.
"Our special students are above 18 years of age and permitted to participate in the formation of human pyramids. However, we don't put up very high pyramids. We will have two to three tiers with teachers surrounding the students to support and protect them against any unfortunate incident. With the help of a non government organization, we have added the theme of the awareness of organ donation to this year's celebration," Bhayashree Velankar, principal of Jhaveri Thanawala Karnabadhir Vidyalaya, told the daily.