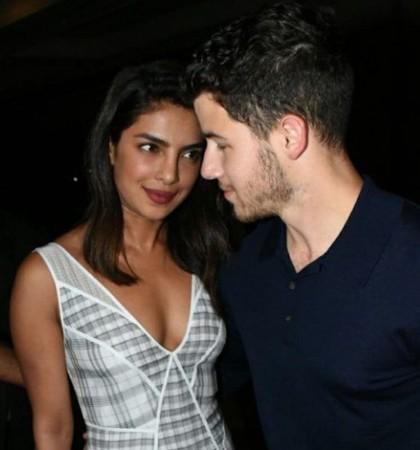 We told you yesterday how this weekend the roka ceremony of actress-singer Priyanka Chopra will be held, and that her husband-to-be Nick Jonas and his family will arrive in Mumbai for it. Sure enough, Priyanka Chopra's pre-wedding celebrations have begun! American singer Nick Jonas and his parents are indeed in Mumbai and the Chopras hosted a dinner on August 17 for them.
In the latest pictures, we can see Priyanka Chopra and Nick Jonas all lovey-dovey. Nick's parents can be seen arriving in a car. Priyanka Chopra's Roka ceremony will be held on Saturday, August 18, 2018. The Roka is held as a commitment when a wedding date is finalised.
Speculations about Priyanka Chopra's engagement to Nick Jonas began when he visited India in June 2018 and stayed at the Juhu home of the Quantico actress. The couple had already started liking each other's post on social media and commenting on them, and suddenly he was here in India. Nick Jonas in June spent time with Priyanka's mother Madhu Chopra, her brother Siddharth Chopra and cousin Parineeti Chopra in Goa.
Priyanka Chopra flashed her engagement ring at a recent party hosted by fashion designer Manish Malhotra in B-town, where she posed with actress Raveena Tandon and the diamond ring on her left hand was visible.
Priyanka Chopra walked out of Salman Khan's magnum opus Bharat, and rumours were rife that it was not for her new Hollywood projects but her engagement to Nick Jonas. Fresh rumours suggest that Priyanka Chopra and Nick Jonas may be getting married as early as possible.
Later this year we shall see Priyanka Chopra's one-time best friend Deepika Padukone getting married to her longtime beau Ranveer Singh. The Ranveer Singh-Deepika Padukone wedding date has been fixed at November 20, 2018, as revealed by Filmfare. Their wedding will be held at Lake Como, Italy, as confirmed by actor Kabir Bedi. But there is no official announcement of it yet to the media.
Priyanka Chopra or Nick Jonas have not officially announced their wedding to either the Indian or American media.