Malayalam actress Priya Prakash Varrier became an overnight sensation when a tiny clip from the song Manikya Malaraya Poovi from her upcoming movie Oru Adaar Love released. Her enchanting eyebrow moves coupled with cute, flirtatious exchange with her co-star Roshan Abdul and her naughty wink made instantly made her India's new crush.
Now known as the 'winking' girl, Priya gained thousands of followers in a day on Instagram. Her expression became so viral that her Instagram followers became higher than South superstars Dulquer Salmaan and Anushka Shetty's followers.
Priya's current Instagram followers have reached 3.2 million, while Dulquer's are 1.9 million and Anushka's followers are 2 million.
Expressing her joy at the same, she told Times Now, "I am feeling extremely happy, yeah. At the same time, not knowing how to handle all this. So we are still coping with what is going around."
Of course, Priya we know you will be on cloud nine after knowing that you have beaten your crush Dulquer on Instagram. In an exclusive interview with International Business Times, India, Priya confessed that Dulquer is her first celebrity crush.
Priya's popularity has even given a tough competition to Dulquer and Anushka Shetty on Google search.
She is on top, but if you check after changing the category to Arts & Entertainment, then Anushka Shetty takes the lead. To get a clear idea, here are the screenshots: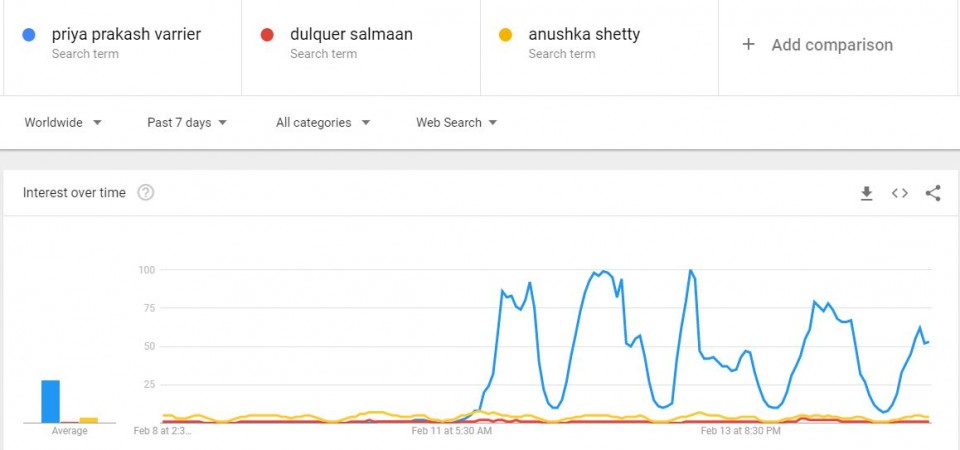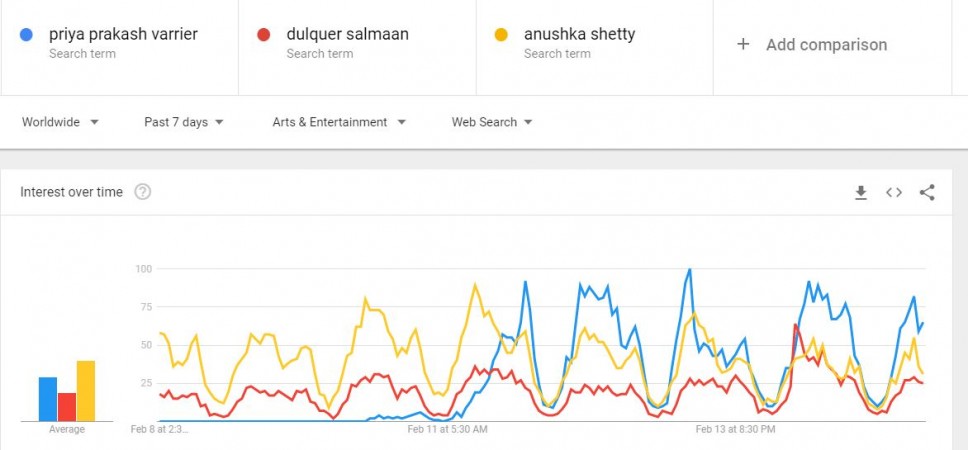 However, Priya has become one of the most searched celebrities on Google. In fact, she has beaten popular Bollywood actress Deepika Padukone and famous TV actress Mouni Roy in the race.
But, she is behind Sunny Leone, who still remains to be the most searched celebrity, on the search engine.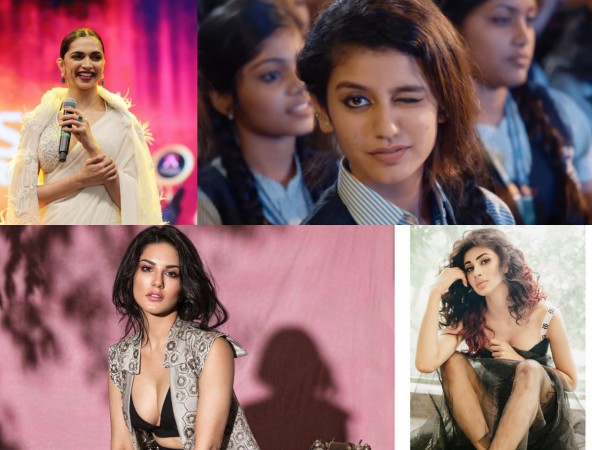 Thousands of memes and trolls were one of the reasons why Priya gained the popularity. In the span of a few hours, the 18-year-old became an internet sensation after the clip went viral and broke some Instagram records along the way.
She also broke the internet with memes featuring alongside Shah Rukh Khan, Katrina Kaif, Narendra Modi, Arvind Kejriwal, Rahul Gandhi and many more tickling our funny bone.
When we asked her about the viral video and popularity she got from it, Priya said, "It feels amazing. It's surreal. I never expected this reaction."