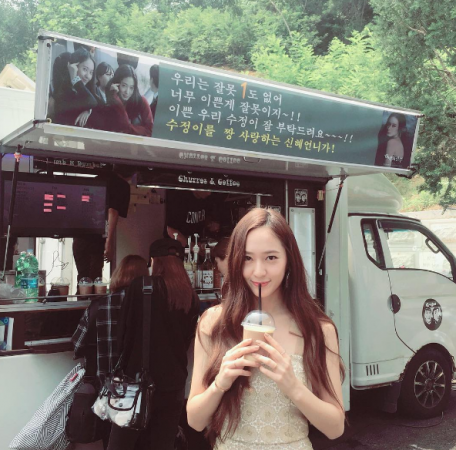 F(x) member Krystal Jung has opened up about her plans to release a solo album in the near future. The 23-year-old singer revealed that she has been thinking about working on a new musical project for quite some time, and has not been able to do it due to her tight schedule.
"I've been thinking about it since two years ago. Nothing worked out, including the timing. There wasn't a song that I liked as I listened to it. Of course, I am still willing to release [a solo album] someday. I want to prepare well and go with something I like. I want to return with good music regardless of the genre," Soompi quoted the K-Pop idol as saying.
The Prison Playbook star has also spoke about her passion for music and revealed she is proud to be a part of the four-member group.
"I like music. I don't want to let it slip. The other members of f(x) also have a strong affection for the group. The music that we'd been doing was different from the pre-existing music. We have pride and a strong affection for it. We want to find the [right] song quickly," she said.
Also read Is Suzy Bae's new song I'm In Love With Someone Else about her breakup with Lee Min Ho?
Apart from working on various musical projects, Krystal has also been part of various television series, like Legend Of The Blue Sea, Bride Of The Water and My Lovely Girl.
The f(x) member has revealed that there is a great difference between working as a singer and an actress.
"When I go to the broadcasting station, I stay in the waiting room and there's no communication [with other people]. There aren't many opportunities to meet new people. When it comes to acting, I go out alone and collaborate with people I don't know. There's a certain freshness that comes from that," she said.
The K-Pop idol is expected to appear in a Chinese movie called Unexpected Love and a television series titled Graduation Season.