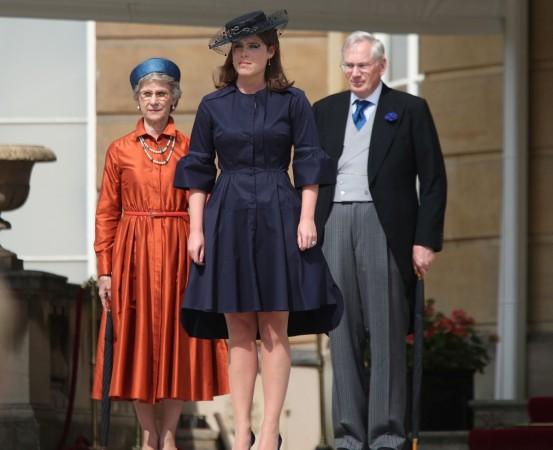 Princess Eugenie has invited 1,200 members of the public to attend her royal wedding on Oct. 12. The younger daughter of the Duke and Duchess of York will be tying the knot with Jack Brooksbank at St. George's Chapel at Windsor Castle.
Prince Harry and Meghan Markle had the same venue for their wedding and they had invited more than 2,000 people to witness their marriage on May 19.
ALSO READ: Here's why Meghan Markle skipped Wimbledon men's final but attended women's final match
An announcement by the Kensington Palace has revealed that Prince Andrew and Sarah Ferguson's daughter will be travelling around the Windsor on a carriage post her nuptials. Prince Harry and Meghan Markle also had a carriage procession after their marriage.
According to Kensington Palace, Princess Eugenie and her husband Jack Brooksbank will start their carriage procession at the Castle Hill and will proceed to the High Street. At the end of the procession, they will return to Windsor Castle via the Cambridge Gate.
"Her Royal Highness Princess Eugenie of York and Mr. Jack Brooksbank will invite members of the public to join in the celebrations of their wedding on Friday 12th October. The couple is delighted to announce an opportunity for 1,200 people from across the United Kingdom to be invited into the grounds of Windsor Castle to share the experience of their special day," the statement from Kensington palace read.
ALSO READ: Facebook to integrate BTS-themed stickers on its platform
"The attendees will view the arrival of the congregation and members of the Royal Family, listen to a live broadcast of the marriage service, and watch as the bride and groom depart St. George's Chapel at the end of the ceremony," the statement added.
The wedding guest list reportedly includes Queen Elizabeth II, Prince Philip, Prince Charles, Camilla Parker Bowles, Prince William, Kate Middleton, Prince Harry, Markle, and other family members. Prince George will attend the ceremony as the bride's page boy while Princess Charlotte will be one of Princess Eugenie's bridesmaids.