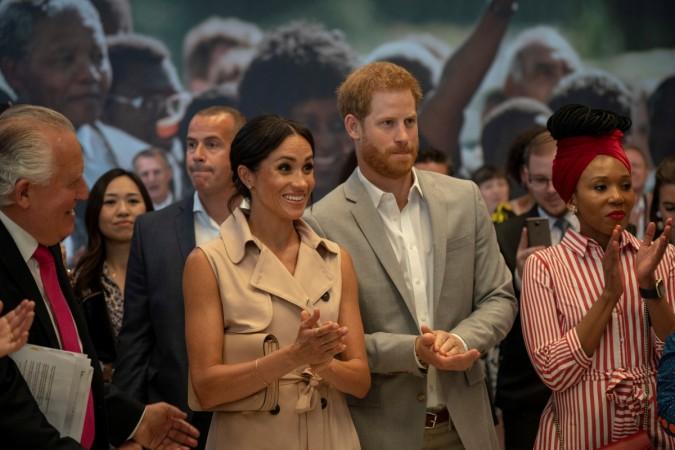 Prince Harry and Meghan Markle met Nelson Mandela's granddaughter at the opening of the London exhibition that marked the former South African president's 100th birth anniversary. The exhibition has been shown in the United Kingdom for the first time.
Zamaswazi Dlamini-Mandela, who is a former South African ambassador, told BBC that it was "an honour" for the Duke and Duchess of Sussex to visit the display at the Southbank Centre. The exhibition traced the journey of Nelson Mandela from being an activist to the President of South Africa.
ALSO READ: Prince Harry, Meghan Markle to celebrate Nelson Mandela's 100th birth anniversary
Mandela's grand-daughter said that the newly-wed couple is a "shining example" for the youth. She also hailed the duo's "support for justice and fairness".
While speaking about Mandela's career, Dlamini-Mandela said that the exhibition, which will run till Aug 19, is "hugely significant".
BBC quoted Lord Hain, the chairman of the Nelson Mandela Centenary Exhibition, as saying: "London was the centre of the anti-apartheid struggle."
"It was here that Mandela's close comrade Oliver Tambo lived, led and directed the worldwide struggle, from military operations in southern Africa to the diplomatic lobbying of the United Nations," the leading former anti-apartheid campaigner said.
"We thought to commemorate Mandela's centenary there should be an exhibition in London," he added.
Lord Hain further said that the Apartheid Museum in Johannesburg, South Africa is responsible for curating the work of the exhibition.
However, this is not the first time when Prince Harry was invited at such an occasion. He has always been invited to South Africa for his charity work in the country. The Duke of Sussex visited Mandela's cell on Robben Island in 2008. According to reports, Mandela was imprisoned in that cell for 18 years. He also paid a visit to the leader's widow, Graca Machel and visited the offices of the statesman in 2015.