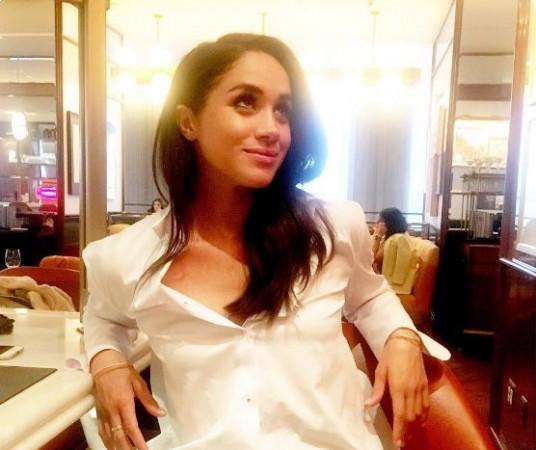 While Meghan Markle has been holidaying with boyfriend Prince Harry, the pictures from her first wedding are doing rounds on social media. The pictures show her wedding celebrations with the first husband and movie producer Trevor Engleson.
Also Read: Kate Middleton pissed off with Prince Harry's girlfriend Meghan Markle
One of the photos shows Markle wearing a yellow polka dot bikini while participating in a wheelbarrow race. Another photo shows her partying on the beach with friends. She also took part in drinking games with wedding guests at a Jamaican hotel.
The photos were published by Radar Online, following which it went viral on social media. Markle married Engleson in September 2011 after dating him for seven years. However, they got divorced in 2013 citing "irreconcilable differences."
Markle is now dating Harry. The couple made their relationship official last year when the palace released an official statement. After dating for a few months, the couple has now gone for their first romantic getaway.
Harry and Markle are currently in the Norwegian town of Tromvik. "They were very discreet. We have a lot of whales and the Northern Lights in Tromvik, which is perfect for tourists to see," Tromvik local Julie Lilanda told PEOPLE.
The couple stayed at the luxury hotel in Tromvik, which is set on the shoreline of the Norwegian Sea. "It's a very picturesque spot with a panoramic view of the ocean. At this time of year the bay is literally full of whales — a ridiculous amount of whales, because they come in to eat the herring, which swim into the fjords near there," local Stig Jakobsen told PEOPLE.
"It is very popular with winter tourists because of the Northern Lights and the whales, of which we have an enormous amount. You can basically go in boats to within 10 feet of a huge whale. So it is quite spectacular."