This Tuesday's episode of Freeform's Pretty Little Liars saw yet another couple take one more step closer to marriage. Caleb and Hanna got engaged in Season 7 episode 17, and Caleb made it obvious that he couldn't wait to get married to Hanna.
"Hanna, I would marry you right this second if we could find a bear who was licensed," Caleb said after he popped the question to his longtime girlfriend in a tent in the woods.
Also read: Kendall and Kylie Jenner missing Bruce as relationship with Caitlyn turns sour
Next week's episode will see Toby returning to Rosewood, and spoilers hint at his reunion with Spencer. Will they also decide to get together like Aria and Ezra, and Hanna and Caleb? A footage from the upcoming episode shows the duo making out, but according to one fan, there is a possibility Toby might not survive Season 7 episode 18.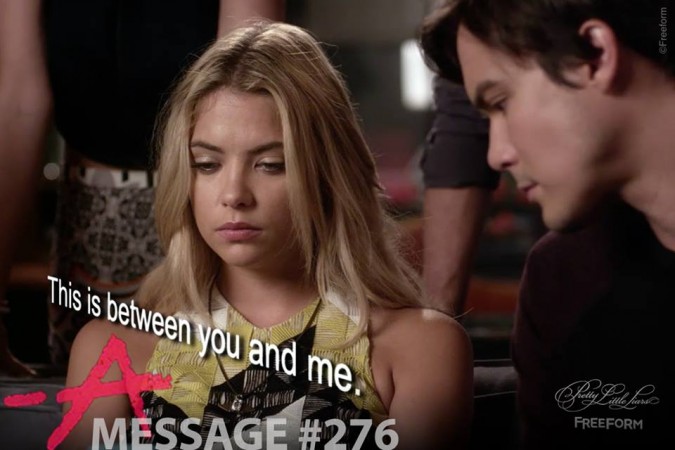 "I have a feeling Toby is going to die at the end of this episode," a fan wrote on Pretty Little Liars Wikia. "Maybe they killed off Yvonne on purpose, so that we would think that they did that so that spencer and toby would get back together. But then, since we wont be expecting it, he gets killed. That would be a massive shock. Maybe thats why the episode is called: Choose or Lose, and spencer will lose toby. That is also probably the real reason why keagan tweeted "RIP Tobias". And the latest leak (or fake news), about ashley benson saying toby and spencer will not end up together by the end of it all, or something like that."
According to the official synopsis for Choose or Lose, the Rosewood PD turn up the heat on the Liars, and Aria's association with A.D will be revealed by someone close to her.
Pretty Little Liars airs Tuesdays at 8 pm ET on Freeform.